To: Board of Health
Meeting Date: September 4, 2019
Report No.: BH.01.SEP0419.C13
Prepared By: Mary Anne Kozdras, Program Manager, Healthy Families
Approved By: Rita Isley, Director of Community Health and Chief Nursing Officer
Submitted By: Dr. Nicola J. Mercer, MD, MBA, MPH, FRCPC Medical Officer of Health & CEO
Key Points
Healthy Families program covers the following program areas: Healthy Babies, Healthy Children (HBHC), Breastfeeding Clinics, Let's Talk Parenting and In- Person Prenatal classes.

2,088 home visits were provided by public health nurses (PHN) with the HBHC program and 1,706 home visits were provided with the Blended Home Visiting program. This includes the PHN and family visitor.

All locally determined outcome indicators and key HBHC program benchmarks and indicators have been achieved.
Program Requirements
Compliance with OPHS and Accountability Indicators:
✓  In compliance
Highlights
HBHC Program
The Board of Health provides HBHC programming during the prenatal period and to families with children from birth to transition to school. The targeted program approach enables a universal screening opportunity when the child is born. The purpose of the program is to improve early child healthy growth and development and reduce health inequities for families obtaining services (HBHC Program Protocol, 2018). This includes a goal to promote optimal physical, cognitive, communitive and psychosocial development in children.
HBHC program components consist of: service and system integration, access to information and resources, early identification and intervention screening, assessment, blended home visiting services, service coordination, referral to/from community services, and research and evaluation (HBHC Program Protocol, 2018).
HBHC can support the healthy growth and development of children by:
Identifying and supporting at-risk clients through early identification and intervention screening (consisting of prenatal, postpartum and early childhood screening components;

Building positive parenting through coaching, mentoring and education;

Assist families as they navigate, and access community services and supports; and

Support families who may be living in difficult or stressful situations and ensure they get connected with the support or services they need.
There are three stages for program entry: prenatal, postpartum and early childhood. Families receive an initial visit and then assessment to determine eligibility for the blended model of home visits. The role of the PHN is to assess, refer and plan with the family goals and activities. The role of the family visitor is to implement the plan and support the family in conjunction with the PHN in an effort to achieve behaviour change. The Blended Home Visiting program establishes visit frequencies and goals jointly with the family. Common goals include feeding and nutrition, crying, sleeping, attachment, achieving milestones and dealing with childhood behaviours.
There are ministry benchmarks that indicate the assessment criteria for a family to be offered the Blended Home Visiting program. Home visiting ratios, goal criteria and duration on the program are also determined by the ministry as well as locally. In 2018, all locally determined outcome indicators and key HBHC program benchmarks and indicators have been achieved.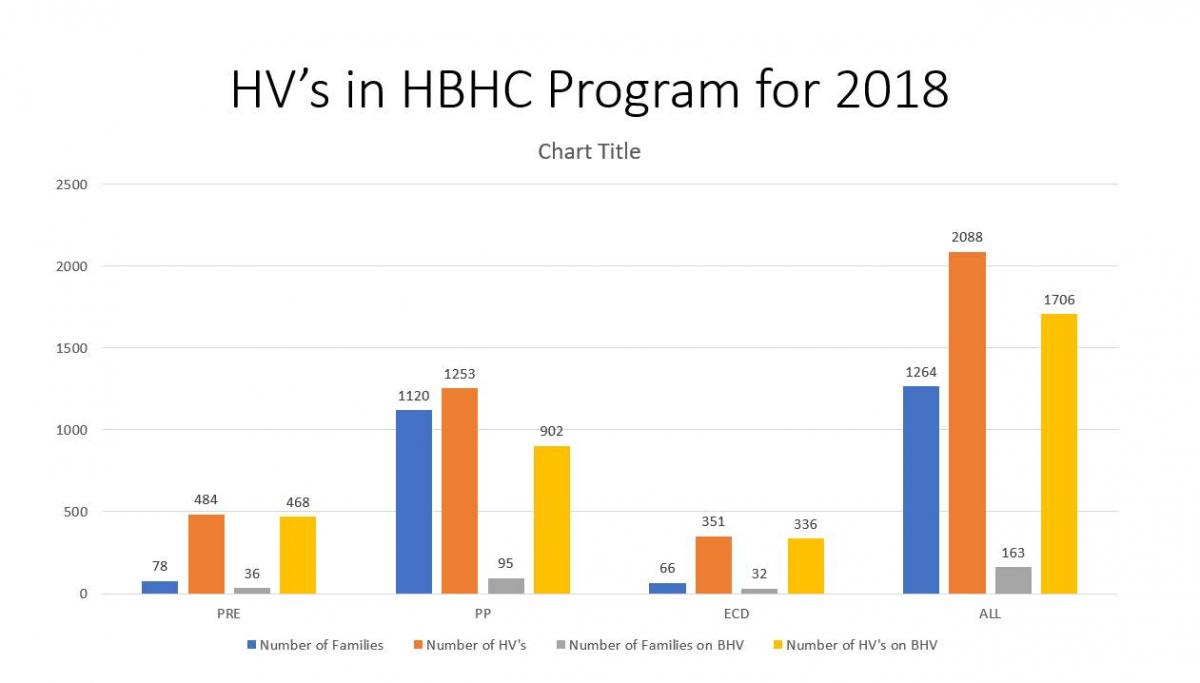 PRE - Prenatal Period
PP - Post Partum Period
ECD - Early Childhood
HV - Home Visit
BHV - Blended home visit (nurse and family visitor)
Breastfeeding
PHNs are available to provide free breastfeeding support by phone through the Let's Talk Parenting line or in person to new parents requiring assistance through breastfeeding clinics.
PHNs provide comprehensive breastfeeding assessment and plan of care for families experiencing infant feeding challenges.
Currently, there are five (5) breastfeeding clinics offered throughout the region. Clinics are offered either by appointment or drop in at set hours. Recently, smaller clinics such as Shelburne and Mount Forest have gone to an appointment model to provide more streamlined services.
Breastfeeding clinic locations include:
Guelph – Early ON and Family Centre at Stone Road Mall;

Fergus – Public Health Clinic;

Mount Forest – Public Health Clinic;

Orangeville – Public Health Clinic; and

Shelburne – Mel Lloyd Centre Clinic.
Number of Women Seen in Breastfeeding Clinics for 2018
|   | # of Clinics | # of Initial Visits | # of Subsequent Visits |
| --- | --- | --- | --- |
| Fergus | 39 | 36 | 19 |
| Guelph | 97 | 236 | 220 |
| Mt. Forest/Palmerston | 99 | 26 | 9 |
| Orangeville | 84 | 195 | 350 |
| Shelburne | 38 | 28 | 14 |
| Total All Clinics | 357 | 521 | 612 |
Let's Talk Parenting Line
The Let's Talk Parenting Line is a free and confidential telephone support from a PHN covering a range of topics about pregnancy, parenting and child health from prenatal period to age six. Referrals are made to various programs and community resources are provided. This is the first year for the Let's Talk Parenting Line as it transitioned from KidsLine for Growing Great Kids, a comprehensive intake and referral line for six agencies in 2017.
The number of parent calls for 2018 was 943. There were 433 referrals and recommendations made.
Top Five Call Topics in 2018
| Topic | # Calls |
| --- | --- |
| Breastfeeding | 216 |
| Community resources | 81 |
| Prenatal health | 81 |
| Infant health (0 – 1 year) | 76 |
| Here4Kids* | 74 |
| Total | 528 |
* Historical data and comparison is not available as this was the first year for the Let's Talk Parenting program.
Prenatal Classes
In 2018, the in-person prenatal program was offered in Fergus, Guelph and Orangeville locations. In January 2018, a new hybrid prenatal curriculum was offered with a combination of both in-person and online format. Class sessions moved from six, two- hour sessions or two consecutive Saturdays prior to 2018, to three, two-hour weekday evening sessions during 2018.
The fee for service of the prenatal classes was $75.00 until June 28, 2018. After June, classes were free of charge. Prior to the free classes, 25 fees were waived across the three prenatal sites between January and the end of June 2018.
The total number of registrants that attended classes in 2018 was 285. The vast majority resided in Guelph, Wellington or Dufferin counties. The average age of the registrant was 31.5 years.
The online prenatal program allows participants to receive information about health pregnancy, labour and birth, early parenting and breastfeeding. It can be completed at the client's own pace and in the comfort of their home.
In Class Prenatal Series 2018
In-class prenatal attendance

Guelph

Fergus

Orangeville

Total

# Series

15

5

9

29

# Attended >= 50% of classes

147

43

75

265

# Attended <50% of classes (excludes no shows)

 

9

 

4

 

7

 

20

Total Prenatal Series Registration

 

156

 

47

 

82

 

285

# Complete no shows

12

4

11

27

Prenatal series attendance for Class 2 (Breastfeeding)

 

141

 

38

 

78

 

257
Related Reports
BH.01.APR0418.C07 – Healthy Babies Healthy Children Program – Program/Service Information Report
BH.01.JUN0618.R17 – Growing Great Kids System of Care: Access Point Transition
BH.01.SEP0518.R20 – Prenatal Evaluation
Appendices
None.