Vaping was invented as a safer alternative to smoking and as a way to quit smoking cigarettes. However, youth vaping is on the rise and there are increasing concerns over the legalization of vaping products containing nicotine.
How vaping works
Vaping liquid (sometimes called vape juice, e-liquid or e-juice) is heated in a vape device (like vape pens, e-cigarettes, e-hookahs, sub-ohms, tank systems or single-use, pre-filled "puff bars") until it becomes a vapor. This vapour is inhaled into the mouth and lungs and enters the bloodstream, and any excess vapour is exhaled. Watch this short video from Health Canada to learn about The Mechanics of Vaping (video).
What's in vaping liquid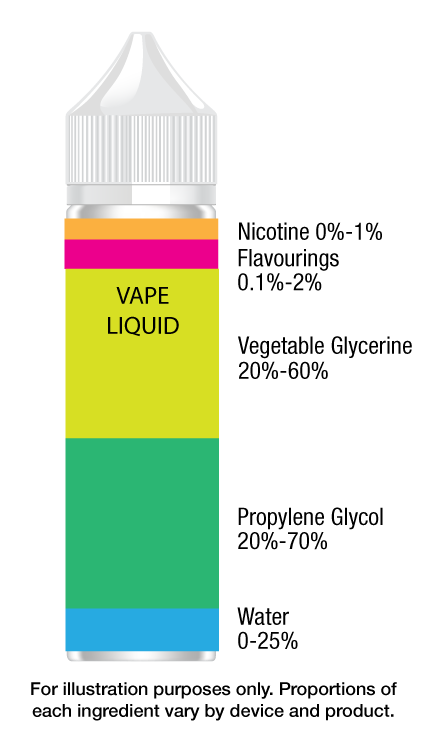 Most vaping liquids contains a mixture of propylene glycol and/or glycerol (vegetable glycerin), nicotine and flavouring chemicals. It can also contain cannabis extracts and concentrates for consuming marijuana.
Nicotine: Highly addictive ingredient found in regular cigarettes and e-cigarettes. Nicotine levels found in e-liquid can be significantly higher than what is found in cigarettes. Some e-liquid contains as much nicotine as one pack of cigarettes.
Propylene glycol and/or glycerol (vegetable glycerin):
Flavourings: There are more than 7,000 flavours of e-juice available that appeal to kids and youth.
THC: Contained in vape cartridges of cannabis extracts and concentrates.
Overall combination of known and unknown ingredients, chemicals and additives: Vary by ingredients, device, heating temperatures, liquids and vaping patterns.
The below chart shows each ingredient and possible health effect and risks.
Vaping ingredients, effects and resources

Vaping Liquid Ingredient

Possible Health Effects and Risks

Learn More

Nicotine

Highly addictive
Causes cravings for more nicotine and withdrawals
Raises blood pressure
Spikes adrenaline
Puts stress on the heart
Poisonous if swallowed (higher risk for young children)

Propylene glycol (PG)
and/or glycerol
(vegetable glycerin) (VG)

When heated, PG and VG break apart to form chemicals like formaldehyde and acetaldehyde, which have toxic effects on human health.
Increases the visibility of the vapour exhaled (i.e. the cloud)
Enhances smoking sensation (i.e. throat hit)

Flavouring chemicals

Youth are drawn flavours more than any other group (i.e. 83% of 15-19 year old's who vape used fruit and candy/dessert flavours)
Candy and dessert flavoured names hides the product's harm and increase its attraction to kids and youth.

 

THC
(tetrahydrocannabinol)

Can cause over-intoxication, resulting in severe anxiety, vomiting and paranoia
Associated with severe lung and pulmonary illnesses
If you are under age 25 and use cannabis daily or almost every day, it can increase your risk of learning, memory, addiction and mental health issues. 

Overall combination
of known and unknown ingredients, chemicals
and additives

Vaping Associated Lung Illness (VALI), a serious medical condition causing inflammation of the lungs from inhaled substances resulting in cough, shortness of breath and possible hospitalization
Changes in brain development in teens
Puts stress on the heart and is linked to heart disease
Linked to chronic lung disease and asthma
Unknown risks of long-term physical health affects
Vaping and youth
During adolescence and into young adulthood, young brains are still developing. Nicotine (and cannabis) can lead to addiction, less impulse control and problems with memory and concentration - and the longer-term health effects of still unknown. With over 7,000 flavours of vape liquid, vape liquids are designed to appeal to youth and hide the harms. Taking steps to learn about vaping and talking to youth and kids about the harms and risks, can help prevent them from experimenting with it. Check out this Talking with your teen about vaping: A tip sheet for parents and the Health Canada video Vaping: Learn the Lingo below.
What the data says
Local youth vaping facts for WDG

WDG Public Health's WHY survey 2022 shows:

In 2022, 15% of students in Grade 7 and up reported using an e-cigarette in the past year.
In 2022, more senior students reported using e-cigarettes in the past year (22.4%) compared to intermediate students (4.5%).
In 2022, reported e-cigarette use was highest for non-binary students in Grade 9 and up (26%) compared to students who identify as binary.
Female students in Grade 9 and up reported higher e-cigarette use in the past year (24.8%) compared to male students in Grade 9 and up (19%).

Canada-wide youth vaping facts

The data Canada-wide shows:

Reducing stress was the most common reason youth ages 15-19 reported vaping with and without nicotine (33%); followed by because they enjoyed it (28%) and wanted to try it (24%). (CTNS, 2020)
Nationally, 50% of youth aged 15 – 19 years of age reported used social sources to obtain vaping products over the past 30 days. (CTNS, 2020)
Nationally, 77% of young adults age 20-24 and 89% of adults age 25+ obtained vaping products at retail stores. (CTNS, 2020)
Among Canadians who used a vaping device in the past 30 days, 26% perceived vaping as "much less harmful than cigarettes" and 32% perceived vaping as "somewhat less harmful than cigarettes. (CTNS, 2020)
Nationally, among people aged 16 to 19 who reported using cannabis in the past 12 months, 55.3% reported vapourizing cannabis using a vape pen or e-cigarette (43.8% for aged 20 to 24). (Canadian Cannabis Survey, 2022).
Quit vaping resources
Quash: A stop vaping/smoking app for youth. Create a customized quit plan and get help as you progress through each stage of the quit process.

Stop Vaping Challenge: An app from the Ontario Tobacco Research Unit that provides a venue for youth to reflect on their vaping behaviours and patterns in a fun, social way that encourages quitting with friends.

Crush the Crave - Vape Edition: An app that provides supportive messages, virtual awards and help for dealing with vape cravings. The app allows you to track the number of days vape-free, amount of money saved and triggers.

Crush The Crave - Vape Edition → APPLE STORE

Smokers' Helpline offers online resources and a texting program for people looking to quit vaping, smoking or both. To join the Smokers' Helpline text program – text 'iQuit' to 123456.

Talk Tobacco is a free confidential program offering culturally appropriate support and information about quitting smoking, vaping and commercial tobacco use to First Nations, Inuit, Métis and urban Indigenous communities.

Not an Experiment: An online youth vaping cessation support program where you can create and download a quit plan.
Nod from 2050 is a website that encourages youth to reflect on their long-term goals with respect to vaping nicotine. It is informed by research on specific techniques associated with higher success in successful behaviour change, including supporting identity change and developing a vivid mental image of becoming an ex-vaper.
The Ottawa Model for Smoking Cessation (OMSC) Community Program provides smoking/vaping cessation treatment and supports to Ontarians who do not have access to a healthcare provider or cannot easily access treatment and support. To register, call 1-888-645-5405 and leave your contact information on the voicemail.

The Expand Project is an initiative aimed at both starting and expanding conversations around nicotine and tobacco among queer and trans young adults ages 18-29.  Informed by, and made for queer and trans young adults, the project is working to create and share accurate information and resources encouraging folks to reflect on their own smoking and vaping use both personally, and as a larger community.
You can find more resources and programs for quitting tobacco and getting support for reducing or quitting cannabis for youth and adults on our website.