Oral health is an important part of your child's health, self-esteem and sense of well-being.
Did you know that children should start seeing a dentist around age one? Once they begin visiting the dentist, it's important to continue to go regularly.
If you can't afford to pay for dental care for your children (ages 0-17), we have programs that can help. To learn more about our dental programs please call our Dental Line at 1-800-265-7293 ext. 2661. We can:
Answer any questions or concerns you have about dental and oral health
Help you find out if your children qualify for free dental care
Help enroll your child in our dental programs
Programs and services
Public Health offers FREE dental care to children and youth who cannot afford dental care through the Healthy Smiles Ontario (HSO) program. Healthy Smiles Ontario is a government-funded dental program that provides free preventive, routine, and emergency dental services to eligible children and youth 17 and younger from low-income families.
Preventive dental care 
Our dental hygienists check your child's mouth for oral health concerns, clean their teeth, apply fluoride and sealants, and teach them how to brush and floss. We can provide information about brushing, healthy eating and other ways to keep your child's mouth healthy. We will also help you find out if they qualify for any other free dental programs. You can book an appointment for your child at one of our preventive clinics if:
They are 17 or under AND
You cannot afford their dental care
Regular and emergency dental care 
If your child is eligible for the HSO program and you have a family dentist, Public Health can assist you with completing an application if required.
Children and youth may be eligible for regular dental care through HSO if they:
Are 17 or under
Live in Ontario
Have a household income that meets the program criteria
Children are automatically enrolled in HSO if:
They receive assistance under:

Temporary Care Assistance
Assistance for Children with Severe Disabilities
They or their family receive:

Ontario Works
Ontario Disability Support
A child or youth may be eligible for dental care at Public Health if they have an urgent dental need and cannot afford treatment. If your child has a dental emergency, call Public Health for help.
Does your child have this card? Call Public Health or your family dental professional to book an appointment for your child.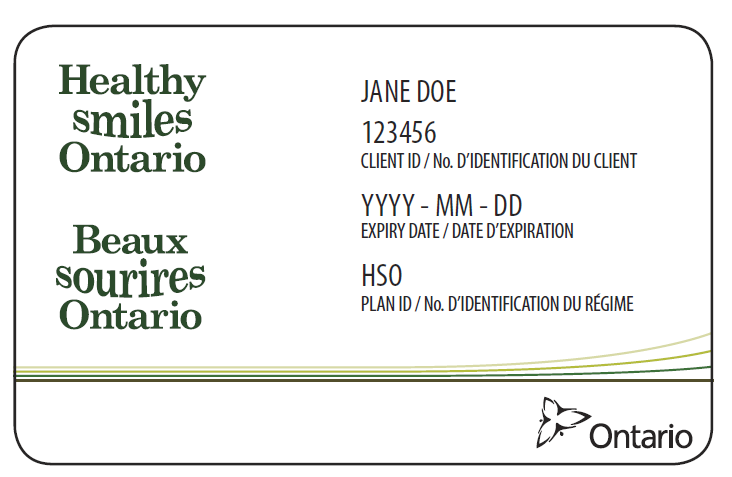 School services *Temporarily on hold
Dental screenings
Our registered dental hygienists visit elementary schools and provide a quick check of students' teeth. They let parents/guardians know if they see any problems, such as large cavities, in the child's mouth. These screenings do not replace an exam by a dentist.
Fluoride varnish
We provide free fluoride varnish applications at select schools. Fluoride varnish is a protective coating that helps to make teeth strong and prevent cavities.
If your child attends one of our fluoride varnish schools, you can print off a Fluoride Varnish Consent form (PDF, 4 pages, 1.9 MB). Return the completed and signed consent form to the school so your child can take part in this free program.
Healthy Teeth Healthy Kids checklist
Use the attached checklists below to help you keep track of your child's dental health and development.