The Ontario Seniors Dental Care Program is a new publicly-funded program that provides access to oral health care services for low-income seniors, for both preventive (cleanings) and restorative (fillings, extractions) services. The program may help reduce unnecessary trips to the hospital, prevent certain chronic diseases, and increase the quality of life for seniors in Ontario.
Please check back to this page often as we will provide updates as the program expands.
Eligibility requirements
To qualify for the Ontario Seniors Dental Care Program, you must:
be an Ontario resident,
be age 65 and older,
have an annual net income up to $22,200 for a single person or a combined annual net income up to $37,100 for couples, and
have no other form of dental benefits including private insurance or through government programs such as Ontario Disability Support Program (ODSB), Ontario Works (OW), or the Non-Insured Health Benefit (NIHB).
How to apply
Each person who needs dental care will need to apply separately (e.g. a couple must complete two application forms, one for each person). There are two ways to apply:
Online
Complete the online application.
Print and sign the Consent form.
Mail the signed consent form within 30 days to:
Ontario Seniors Dental Care Program 
Station P, P.O. Box 159
Toronto, Ontario
M5S 2S7
Mail
Download and print the application form or pick up an application form at one of our Public Health offices
Complete and sign the application.
Mail the application to:
Ontario Seniors Dental Care Program 
Station P, P.O. Box 159
Toronto, Ontario
M5S 2S7
Help is available in both English and French to complete the application by calling the program support centre.
Call: 416-916-0204
Toll-Free: 1-833-207-4435
TTY: 1-800-855-0511
For more information about the OSDCP, visit ontario.ca/seniorsdental or call the OSDCP contact centre.
The Public Health Dental Line at can also provide assistance. Call 1-800-265-7293 ext. 2661.
How to receive dental services
If approved, you will receive a welcome package and dental card in the mail (see sample dental card image below).
Currently, seniors can only access these services through Public Health Units. Private dental offices will not accept the Seniors Dental Care Plan Card.
To make an appointment for dental services, call the Public Health Dental Line at 1-800-265-7293 ext. 2661. Bring the dental card to each visit to receive services.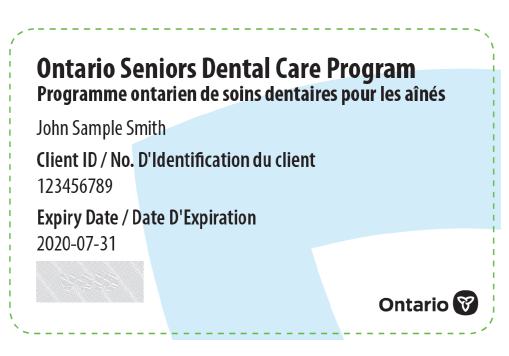 How is eligibility determined?
Eligibility for the OSDCP will be based on a senior's net income (line 236 from your income tax form). Net income measures the sum of all income potentially subject to tax, including but not limited to employment income, investment income, pension income (including CPP) and government social support payments (e.g. OAS, Guaranteed Income Supplement, Social Assistance) less non-discretionary expenses associated with earning income (e.g. union dues, professional fees) and pension contributions (e.g. RRSP contributions or contributions to a Registered Pension Plan).
How long does the enrollment process take?
The OSDCP Program Administrator (Accerta) is responsible for reviewing applications and determining eligibility. Questions regarding application turnaround time should be directed to the OSDCP's bilingual (English/French) contact centre.
How are dental cards renewed under this program?
The OSDCP benefit year runs from August 1 to July 31. OSDCP clients must re-apply if they:
Applied through the guarantor process, or
Did not file taxes for the most recent tax year that eligibility is being determined
Before the end of each benefit year, all other clients will be automatically re-assessed for eligibility by the OSDCP Program Administrator.
Clients will be notified by mail:
If they are eligible to keep participating in the program; they will receive a new dental card
If they need to re-apply and how to re-apply to the program, if required
Dental services included in the program
Check-ups including scaling, flouride and polishing
Repairing broken teeth and cavities
X-rays
Removing teeth or abnormal tissue (oral surgery)
Anaesthesia
Treating infection and pain (endodontic services)
Dental prosthetics (prosthodontic services) including dentures, will be partially covered
Dentures
Clients will be responsible for a small portion of the cost and any adjustments, repairs, or relines to dentures as long as OSDCP coverage exists.