Teachers play an important role in educating students about substance use, addictions and related behaviours. Prevention messages are most effective when shared with students early in life.
The following resources can be used by teachers in the classroom or to support school initiatives. For questions, contact our School Health Curriculum Resource Line at 1-800-265-7293 ext. 4111 or email schoolhealth@wdgpublichealth.ca.
Community programs and Services
Intake line to addictions, mental health and crisis services in Waterloo Wellington. Services are available for children, youth and adults. Call 1-844-HERE-247 or visit here247.ca.
Telephone and online confidential counselling and referrals for children and youth. Call 1-800-668-6868 or visit kidshelpphone.ca.
The website also includes information and resources about substance use for youth.
MADD (Mothers Against Drunk Driving)
MADD provides educational programs to prevent drug and alcohol-related automobile crashes, for Grade 8.
An educational program to address road safety risks of driving under the influence of marijuana for youth drivers.
Recommended websites
Cannabis (Resources for Grades 6-12)
E-cigarettes (Resources for Grades 7-12)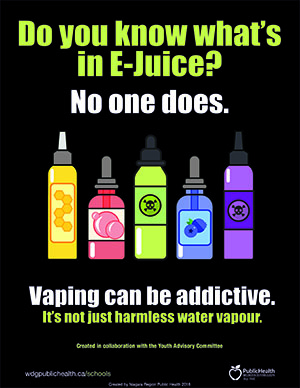 Tobacco (Resources for Grades K-12)
OTHER SUBSTANCES (RESOURCES FOR GRADES K-12)
Information on Prescription Opioids (PDF, 4 pages, 630 KB)
Information sheet for educators on prescription opioids (including fentanyl), developed by School Mental Health-Assist and The Centre for Addiction and Mental Health.
Resources and lesson plans for Grades K-12 on alcohol, tobacco, and other drugs, as well as emotions and behavioural health.
A free, classroom-based substance abuse prevention curriculum for Grades 7 and 8 that is proven to reduce the experimental and continual use of drugs among students. Includes online teacher training, lesson plans, posters, videos, and newsletters.
Talking with teenagers about drugs
This Government of Canada webpage includes tips for talking with teens about drugs, information about cannabis, prescription drugs and other substances, and links to additional resources.
Public library resources
The following resources are available for loan from your local library. These DVDs can be used with lesson plans or for school events. To book a resource, please visit the online catalogue of one of our participating public libraries: (Note: library membership required).
Dr. Crazy (DVD)
This 17 minute DVD features Dr. Crazy, a mad scientist who tries to trick children into buying tobacco products. It can be used for Grades 4-6 and includes a teacher's resource guide.
iDrive: road stories (DVD)
This 23-minute DVD raises awareness about the risks and consequences of unsafe, aggressive and impaired driving. Grade 8 and up.