Most accidents and injuries are both predictable and preventable. It's important for students to learn how to be actively involved in their own safety and to care about the safety of others. By teaching safety rules and practices from the playground to the Internet, students can develop skills to recognize, assess and manage risk in several environments.
For questions about Personal Safety & Injury Prevention resources, call our Client and Community Support Call Centre at 1-800-265-7293 ext. 7006 (M-F, 9 a.m. - 4 p.m.) or emailclientandcommunitysupport@wdgpublichealth.ca.
Community Programs
School grant program for Grade 3. Teaches deep water survival skills to eliminate risk of drowning.
Recommended Websites
Bullying
PREVNet: Bullying prevention resources, tools, books and videos for Grades 4-8.
Concussions
Ministry of Health and Long-Term Care: Information for educators and coaches on concussion safety and management. Includes videos, infographics, safety guidelines, tools, policies and information about legislation.
Sun safety tips and resources. The sun protection section includes information on sunscreen and indoor tanning.
Information and resources on common allergens and anaphylaxis.
Information and resources on bicycle, pedestrian, school bus, car, ATV, water and snowmobile safety.
Information and resources on a wide range of injury topics.
Colouring book and activities to teach students about rabies, wildlife safety and prevention. Includes local rabies information. Grades 2-3.
Canadian Centre for Kids Protection provides resources designed to help educators teach children and youth effective personal safety strategies.  For grades K-12.
Teaching Kits
GlitterBug Hand Washing Kit 
Interactive germ detector activity that promotes hand hygiene. Students rub the kit's lotion on their hands, wash them with soap and water, and then place them underneath a UV light to see how many germs remain. Can be used for Grades 1-12.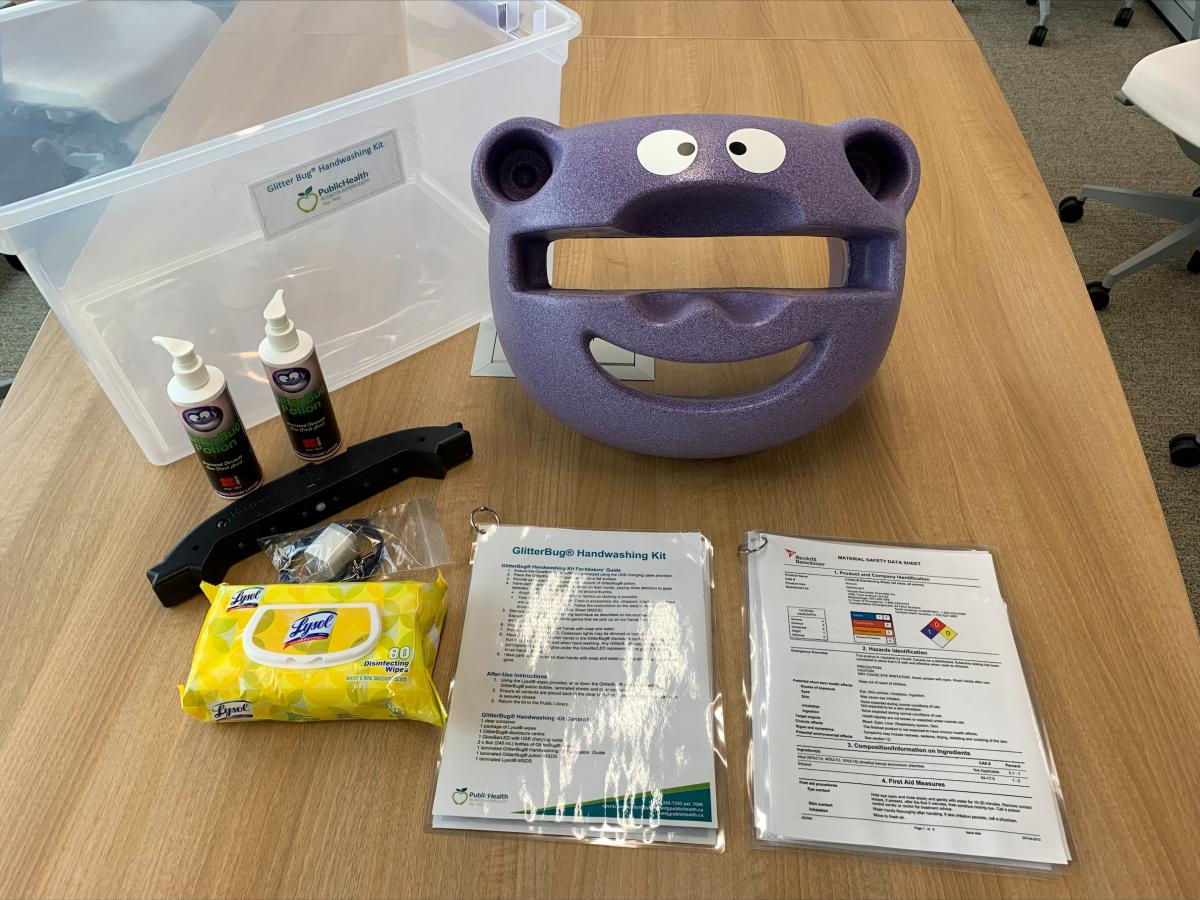 Kits are available for sign-out at the following public libraries