Admit it! We like our screens, whether phones, TV's, laptops, tablets or video games. We learn from them, connect to others with them and relax with them.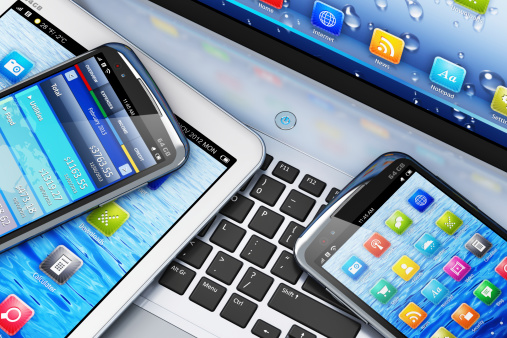 So how can something so useful (and so necessary it seems) cause us to become unhealthy?
Screen time is any time spent using any of the electronics mentioned above. Studies have examined the link between screen time and our health. The Canadian Paediatric Society recommends no more than two hours of media use per day for children from 5 to 9 years of age.
Two hours a day of screen time may sound like a lot but we know for example, "that 64% of babies and toddlers are watching TV and videos, averaging slightly over two hours a day". By the time our children are 18 years old, they could be consuming over seven hours a day of screen media.
Not only does research show that there is a link between excessive media use and obesity, poor nutrition and poor mental health, but it also shows that screen time can be habit forming and the more time children spend in front of screens, the more difficult it is for them to turn them off as they become older.
In other words, increased screen time can lead to eating more food than necessary, which increases the number of calories taken in, which in turn leads to weight gain. At the same time, increased screen use leads to decreased physical activity. It is a vicious cycle.
Break the cycle! Choose to give up screens and be more active for one week in May!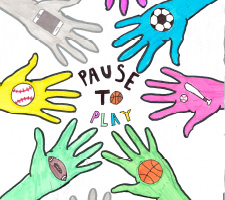 Giving up screen time may help your child sleep better, be better able to pay attention in school or spend more time outside. Here's how you can get started:
May 10-16th is the Pause to Play (PTP) screen free challenge this year. It is offered to all elementary schools to encourage students and families to turn off their screens and instead, use that reclaimed time to become more active.
No one is saying it will be easy, but then, that is the point of a challenge, isn't it? Click the "pause" button, go for a walk, play a game of soccer or read a good book.
Your child will bring home a tracking sheet to record in writing or illustration, their screen-free activities. Check out Pause to Play at Wellington-Dufferin-Guelph Public Health for ideas for low-cost and no-cost ways to be screen free and links to local community partners that are working together to give children and families a variety of choices to fill their free time.
For one week in May, we encourage you to try something new, do something fun and active as a family and even win a prize! Encourage your child to complete their tracking form each day and return it to their school at the end of the challenge for a chance to win great prizes for themselves and their school!