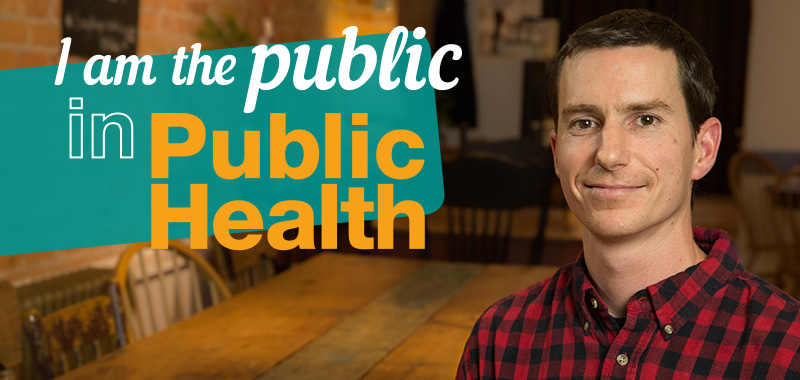 Public health inspectors visit restaurants and other food premises to make sure they're following safe food handling and storage practices. You may know about the work of inspectors through the media or our​ Check Before You Choose website.
But restaurant owners are Public Health clients too. 
We met Xel at his restaurant in Orangeville so he could share his story about working with Public Health, and how he became comfortable with his regular public health inspections.
Sitting in Xel's warm and inviting restaurant space he shared how he got into the restaurant business and how, at first, a visit by a public health inspector could create some anxiety among the restaurant staff. Once everyone got a bit more experience with the routine of inspection there was a confidence built that everything was in place and the restaurant was operating at its usual high standard. Xel says, "There's a reason Public Health exists. I think that the standard in Ontario that everybody's gotten used to is for the most part because of Public Health."
Xel works hard to create a space where people feel comfortable and can enjoy the food he prepares. Watching Xel in the kitchen or out in the dining area ensuring everything is ready to receive patrons, it's obvious he feels at home with all the details of running a restaurant. He shares how it doesn't matter if it's a fine restaurant, a local pub, or a fast food outlet, everyone is regularly inspected by Public Health and inspectors are part of the daily business of quality dining.
Watch Xel talk about it in his own words below.
In case you missed the other installments in the "I am the Public… " series, here they are again:
Sara's Story: Sara attended a Pregnancy to Parenting program for women and teens facing challenges. The program increased her confidence as a mom. 
Mark's Story:  Mark is a body piercer who works closely with Public Health to make sure his clients are safe and protected from the risk of bloodborne infections. He posts his shop's inspection reports for clients to see. 
Jennifer's Story: Jennifer attended drop-in breastfeeding clinics after each of her sons was born. Public health nurses helped her overcome challenges to breastfeed successfully.