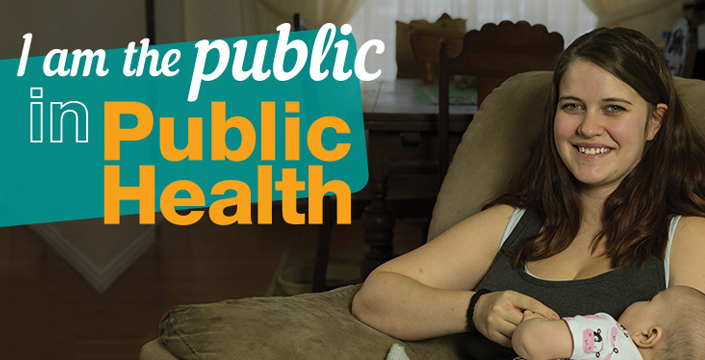 Sara began attending the Pregnancy to Parenting class at Public Health's Shelldale office in Guelph when she was pregnant with her son Levi. I met up with Sara at the class on a cold December morning. Sara invited me back to her home in the afternoon where I was able to ask questions about her experience attending the classes. 
How did you find out about the Pregnancy to Parenting class at Public Health?
Sara told me a friend who was pregnant let her know about the Pregnancy to Parenting class. The friend had been attending the class, knew Sara was pregnant, and asked if she wanted to come along. Sara said she figured she should probably go and meet some people and see some other mothers. Sara began attending the free morning program for pregnant women and teens facing challenging situations.
The day I met Sara at the clinic she was one of about a dozen women in attendance. Most were in the final few months of pregnancy. That particular December morning, Sara was one of two new moms with a baby in tow.
What was your experience like at the Pregnancy to Parenting class?
Sara said she got a lot of good advice at the class. She appreciated hearing different points of view and described the women who attended the class as coming from diverse backgrounds. Sara explained how she really liked the opportunity to ask questions and get lots of information.
Sara easily recalled the many topics that were covered at the weekly classes. She told me a public health nurse talked about the changes that were happening to their bodies. A midwife came and spent an entire class talking to them about labour and delivery. Another class was about healthy eating. There were also classes devoted to things you needed to know to get ready for the baby. Whatever the topic, there was always the opportunity to ask questions.
Sara told me that it was nice to have somebody to talk to. Not just about "old wives' tales" she elaborated, but actual facts about her pregnancy and being a mom. The thing Sara said she benefitted from the most was knowing that if she had an issue, or if something was bothering her, she'd get support at the next Pregnancy to Parenting class. Another thing Sara said she appreciated was making mom friends.
How would you describe your experience with the staff at Public Health?
Sara indicated that she knew the staff were there for her. Every week, the public health nurse and nutritionist made her feel very comfortable.
Sara specifically recalled getting the help and support she needed with some issues around breastfeeding. It was reassuring that if she couldn't do it anymore, Sara said she knew that there would be no judgement and she would still get the help she needed to feed her baby. Fortunately, as a result of the support she got, Sara indicated she is still breastfeeding.
One thing that stuck out for Sara is what she described as "no shaming." She said the staff were willing to help her with whatever she felt was best for Levi. Sara talked about having postpartum depression and how the staff helped her not to feel ashamed. She realized it's something a lot of women go through and there is help available if you need it.
Would you recommend Public Health to your friends and family?
After class, Sara told me that she'd routinely call her sister who had a baby just to tell her about what she learned at class that day.
Sara indicated that the public health staff told her that there were other programs in the community that she and Levi could attend after the Pregnancy to Parenting class.
"My thing is that I love the two of them," Sara said about the staff she got to know at the class. "They made me feel very comfortable and have helped me with different issues." 
When someone is pregnant Sara told me, she will totally tell them to go to the class because it is fun and you learn lot. It's definitely worth it.
Sara was eager to participate in our I am the public in Public Health campaign to tell the community about the help she got during pregnancy and as a new mom. You can watch Sara tell her story in her own words below.