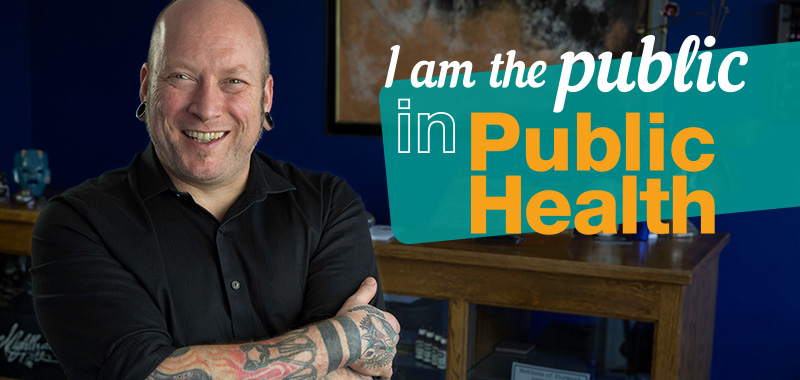 Mark's shop where he does body piercing and tattoos is as warm and interesting as his personality. I sat down with Mark to hear about his relationship with WDG Public Health and how he works with Public Health Inspectors to ensure his clients feel safe and comfortable with the body modifications procedures he offers.
When did you first come in contact with Public Health?
I had some experience with Public Health nurses because of the work that I did with the youth drop-in centre. So there were Public Health nurses who came in and facilitated with the kids and who were making sure they had medical attention and counselling regarding sexual health. 
How did Public Health first engage the body modification sector?
Initially body piercings and tattoos and the whole body modification industry had guidelines but it didn't have regular inspections by Public Health. But I had a knowledge of the health and safety – that was always really important to us. I also knew people in Public Health so when Public Health was looking at our industry and saying we need to make sure that the safety techniques are correct, it was a really easy fit for us. 
How is the relationship between Public Health and the body modification in general?
For some shops that had existed for a number of years but had no relationship with Public Health, there was a worry that someone who was going to come in as an inspector and tell them how to do their job and interfere with the business. But that wasn't that experience at all, certainly not in Guelph where the Public Health inspectors were really interested in the industry, very quickly knowledgeable and empathetic. They wanted to work with us rather than be adversaries. It was really nice. It was a good relationship right from the beginning.
Tell me how else you are involved with Public Health?
What I did that goes a little bit beyond a business relationship with Public Health is work with health inspectors on a number of workshops and seminars. So we've gone into high schools and done talks at the University of Guelph on the issues around the health and safety for tattooing and piercing or other modifications. You know, why piercing your friend at home is not a great idea, what should you look for when you go into a shop. 
What would you say to someone who is expecting a visit from Public Health to check out their shop?
First of all, appreciate that they are coming to do their job of ensuring people are safe from disease and injury. But also remember they are interested in seeing how they can work with us as a business. So, I think that any business that's going to be encountering Public Health should feel comfortable with the idea that they're looking out for everybody's interests. The business's interest, the public's interest. They're not coming in as a faceless bureaucracy. They're not trying to impose a set of rules or regulations that are devoid of any kind of connection to the work that you do.
What do you tell patrons of your shop about Public Health inspections?
I am proud of the Public Health inspection reports and post them publicly. Our website links directly to Public Health's Check Before You Choose website where all inspection reports are available. I want customers or potential customers to look at the inspection reports. So, anybody who might be considering coming in can look and see that we take safety seriously. I know it's very reassuring for our clients to be able to access that information. Sometimes people might be a little embarrassed to come in and say show me your inspection reports. And we are happy to do so if it helps them make an informed decision around body modification. So we take pride in it. It's very important to us. And it's important for anybody who is looking around for a shop but not sure whether it's the right decision or not. 
Watch Mark tell his I am the public in Public Health story in his own words in the video below. 
Share your Public Health story with us on Facebook and Twitter.