April 2022 Update: Please note, Let's Talk Parenting services remain on hold at this time.
Telephone Support
Call Let's Talk Parenting for free and confidential telephone support from a public health nurse about pregnancy, parenting and child health.
Monday to Friday, 9 a.m. to 4 p.m.
1-800-265-7293 ext. 3616
We can help you with:
Pregnancy
Postpartum adjustment
Breastfeeding
Mom and baby care
Child health
Parenting
Healthy families
Other public health services
Community resources
Connect on Social Media
You can also connect with us online. Join the conversation on
Twitter @LetsTalkParents and on Facebook @LetsTalkParenting.
Pregnancy and Parenting E-newsletters
Sign up with your email address to subscribe to our parenting e-newsletter full of reliable, local parenting information to help you and your family stay well. Each month will focus on an issue that affects children from birth to age 5. While some topics are universal, our focus will be on events and resources in Guelph and the counties of Wellington and Dufferin (and road trip distance beyond!). You can read past issues here.
Pregnant or thinking about having a baby? We have a newsletter for you too! Subscribe to our Let's Talk Pregnancy newsletter, or check out past issues here.
Referrals to developmental services for children
(0 to 6 years)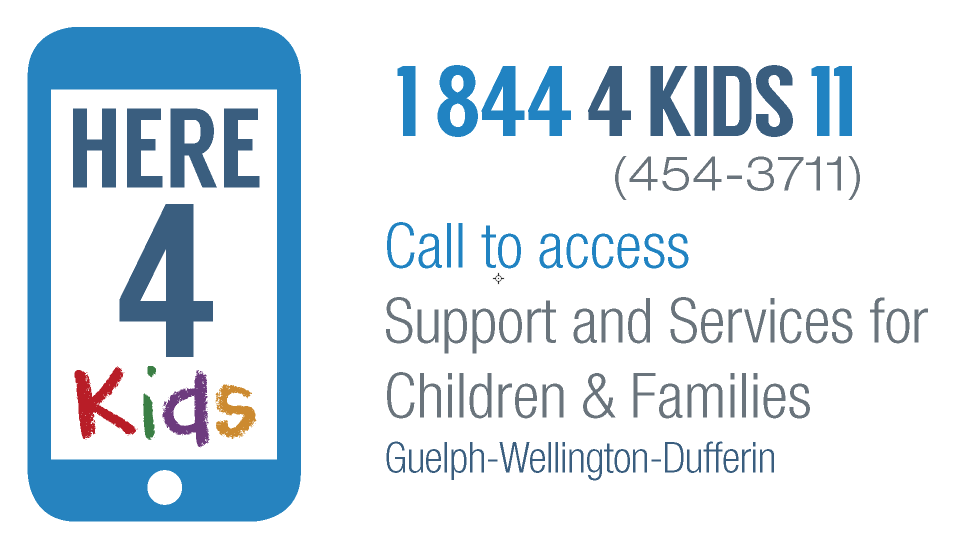 Here4Kids is the new access point for the Growing Great Kids System of Care. They can connect you with:
Speech and language services
Occupational therapy
Physiotherapy
Children's mental health and developmental services
Healthy Babies Healthy Children program
Call 1 844 4 KIDS 11 (1-844-454-3711) to get connected to a service coordinator.