Join us on Saturday, October 5 from 10 a.m. to 2 p.m. for a Rabies Vaccination Clinic with Veterinarian Dr. Julie Ballinger, DVM.
Location: Paramedic Services, 325 Blind Line, Orangeville
Time: 10 a.m. to 2 p.m. (no appointment needed)
Cost: $30 per pet (cash only)
Please ensure dogs are leashed and cats are in a carrier
Vaccinations are the easiest way to keep your dogs and cats safe from rabies.
It is Ontario law to keep your pet's rabies vaccinations current.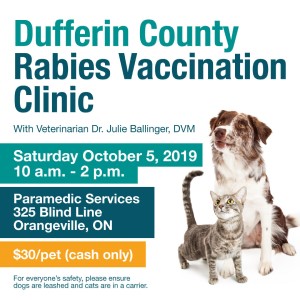 More information about rabies clinics for pets.