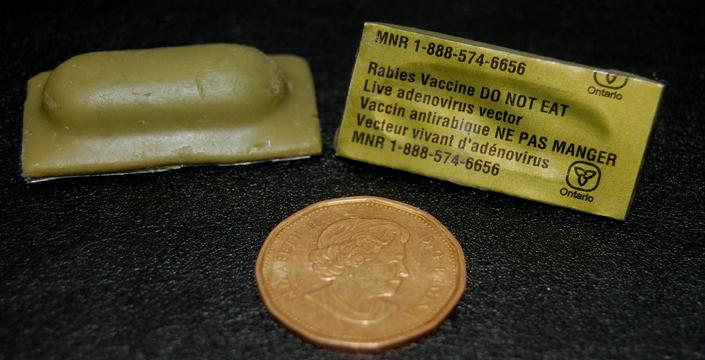 Beginning early July and through to the end of October, The Ministry of Natural Resources and Forestry (MFRF) will be conducting oral rabies vaccine (ORV) bait distribution in both rural and urban areas. In rural areas, the MNRF will be distributing bait using low-level flying aircrafts, and in urban areas by hand.
Wellington-Dufferin-Guelph Public Health is reminding the public not to touch or move the baits if found, allowing for the raccoons, skunks, and foxes to consume them. The bait is khaki-green in colour and labeled with a toll-free telephone number and a warning that reads, "Do not eat". Read more in last year's blog post about what to do if you come across rabies bait: rabies baiting and what to do if you find one on the ground, or refer to MNRF's Rabies Vaccine Bait Information Sheet.
Rabies is in Ontario, with a recent positive case identified in a skunk in Wellington-Dufferin-Guelph. If a person contracts rabies and does not receive treatment, the disease is fatal. Operations such as baiting, vaccinating your pets, and public education are essential in helping to prevent the disease from spreading.
Watch Wellington-Dufferin-Guelph Public Health's video about how to protect yourself, your family, and your pets from rabies.
For more information about rabies, visit Ontario.ca/rabies.