Prost!! The German word for 'cheers' will be heard all over Kitchener-Waterloo (KW) region in October as the region celebrates local Oktoberfest festivities.
Did you know that Oktoberfest celebrations originate in Bavaria, Germany, and began as a wedding celebration? According to the KW Oktoberfest Guide, the event began in celebration of the marriage of King Ludwig I and Princess Therese von Sachsen-Hildenburghausen in 1810, and has grown since that time to become a multi-day event both in Germany and elsewhere in the world.  
KW Oktoberfest draws over 700,000 visitors from all over the province, including Wellington-Dufferin-Guelph.
Will you be participating in Oktoberfest this year?
There are many events on offer for you and your family to enjoy during Oktoberfest, including food, live entertainment and fun for your kids, concerts, the Oktoberfest hockey tournament, and the Oktoberfest Thanksgiving parade. Also on offer are several evening events, combining entertainment, traditional German food and beer.
If you'll be drinking, consider these tips to reduce your risk of alcohol-related harm and to ensure a safe, fun and prost-worthy event!
Stay within the Low-Risk Drinking Guidelines (see below) for special occasion limits: 4 drinks for males, and 3 drinks for females. This will reduce the likelihood of injury and dangerous levels of intoxication.
Count your drinks. This will help you to stay within those Low-Risk Drinking Guidelines.
Enjoy your drinks more slowly. Rather than simply downing your beer or drink, notice the flavour, smell and finish of the beer, drinking more mindfully and slowly.
Space out your drinks, having a glass of water between drinks and taking a longer break in between.
Eat! Enjoy the food on offer (bratwurst anyone?), and avoid drinking on an empty stomach. This will help to slow down the absorption of alcohol, reducing the likelihood of intoxication.
Don't Drink and Drive! Take advantage of busing to and from the event, arrange a designated driver or call an Uber/taxi. Don't drink and drive.
As a reminder, a standard drink is one 340 mL beer at 5%. At Oktoberfest events, beer is sometimes served in small reusable cups (approximately 1 standard drink), a pint (1.5 standard drinks) or larger 1 L steins (3 drinks). Keep this in mind when you count the number of drinks you've consumed.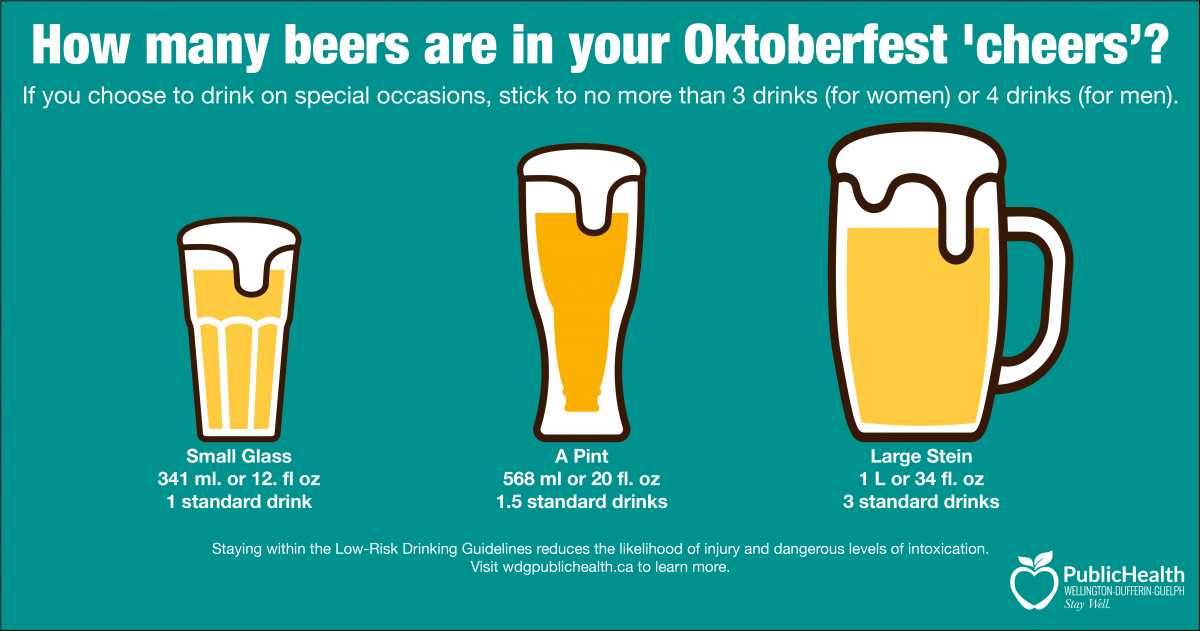 The Low-Risk Drinking Guidelines are a set of recommendations based on evidence, on how to reduce your risk of both short-term impacts of alcohol (intoxication, poisoning, injury) and longer term negative health outcomes (cancer, digestive issues, mental health concerns, cardiovascular events including heart attacks, stroke and diabetes). Learn more about the guidelines.
Have a safe Oktoberfest celebration, and enjoy the festivities!