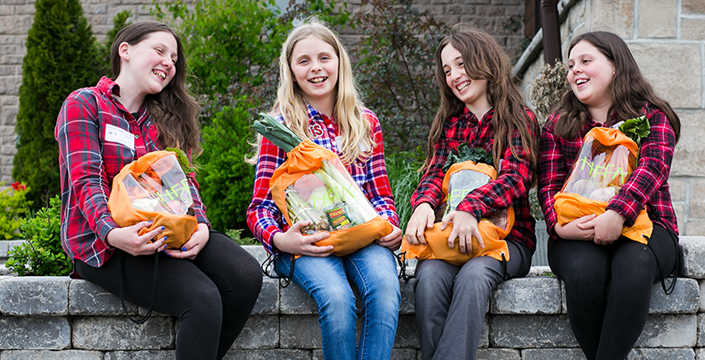 Happy students with their HFFA Farm to School Food bags filled with fresh, local food! 
Headwaters Food and Farming Alliance (HFFA) is excited to share the new Headwaters Food Charter and Action Plan, a community vision for our local food system. So far, the food charter has been endorsed by eight councils in Dufferin County and Caledon and the support keeps growing. So what does this mean for local residents? 
Jennifer Payne, HFFA Farm to School Program Coordinator and Mono resident, reflected on how she got interested in the local food system.   
"I started to educate myself about food when my children were born. I wanted to give them a good start in life and nourish their little bodies as best I could. I was surprised to learn how little I knew about what goes into making the food that is available to us, and the breadth of points of view on the subject of food and how it's produced," she said. 
It was her precaution for her family's health, her passion for the environment, and concern for the well-being of her community that led Jennifer to local food in general and HFFA in particular. She is currently part of a dedicated team that delivers programs where local students can meet farmers and learn where their food comes from, bring home knapsacks filled with local food and are empowered with the skills to help prepare meals at home.
"The food charter captures all my wishes for a healthy food system. It really covers all the bases and brings food home on all sorts of key issues – it's something that I think everyone can get behind and work toward,"Jennifer  shared. 
She sees the charter as a valuable community resource that connects people interested in learning about – and working on – local food. 
How was it developed?
HFFA led the development of the food charter and hosted two large food summits in Headwaters and numerous local events to engage stakeholders and community members. HFFA is a coalition of community agencies, partners and volunteers dedicated to creating a healthy and sustainable food system that supports the health and well-being of residents and contributes to a prosperous and fair economy.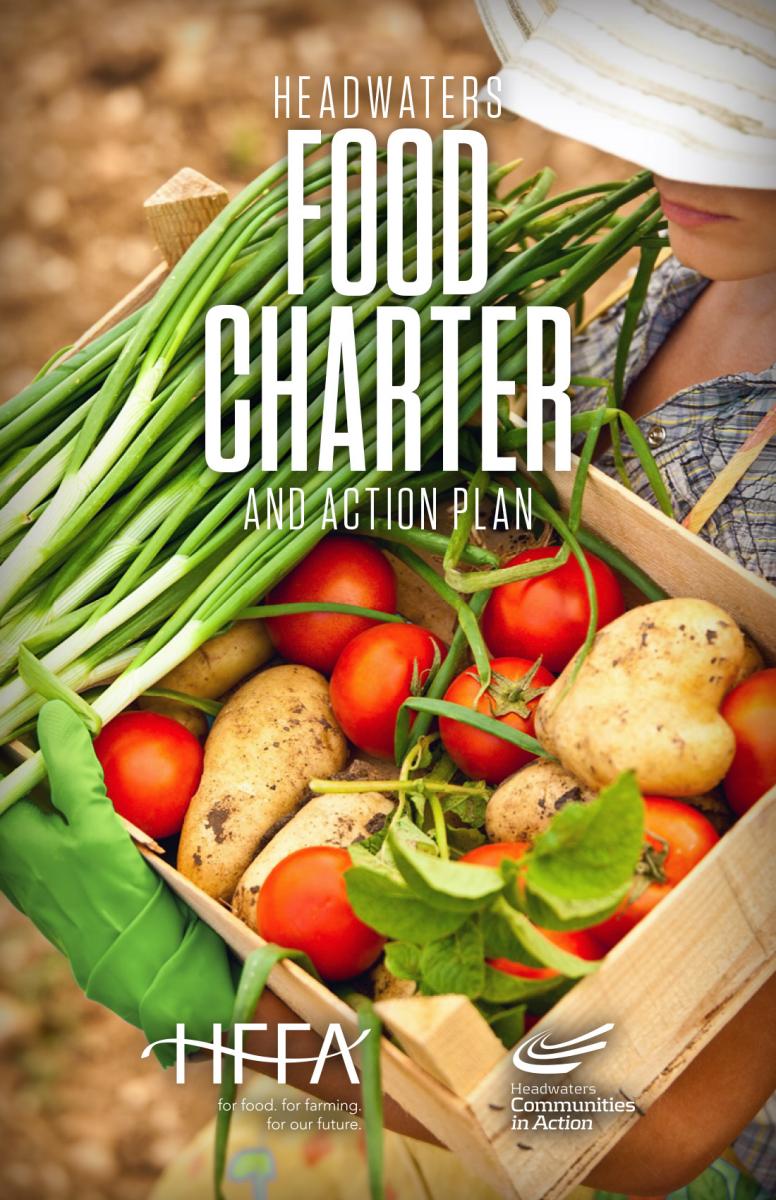 "It was strong partnerships, a shared vision for a healthy food system and an engaged community passionate about local food issues that led to the successful creation of the food charter," said Lisa Needham, HFFA chair and Public Health Nutritionist at Wellington-Dufferin-Guelph Public Health.
"The food charter is for and owned by the Headwaters community," Lisa emphasized. This collaborative effort involved input from businesses, farming, municipalities, schools, community organizations and interested community members.
The Food Charter as a Tool for Community Action
The food charter is an important conversation starter that uses food as a tool for community action. Stakeholder and community voices and priorities shaped the values, goals, and actions in the charter which were organized into six areas of focus: 
Food access and equity
Agricultural sustainability
Economic vitality
Environmental responsibility
Culture and celebration
Health and well-being 
"Our food charter will be instrumental in helping our community guide planning, policy, and program development in an effort to support a healthy food system," Lisa said. 
What can local residents do? 
From growers to eaters, we all have a stake in shaping our local food system. Check out the food charter. If you support the vision, values and goals- speak up and endorse today!
Connect with HFFA! They are always looking to engage with other agencies and community members. The current team is made up of members from:
Wellington-Dufferin Guelph Public Health
Golden Horseshoe Food and Farming Alliance
Town of Caledon
Town of Orangeville
Dufferin Farm Fresh map
Headwaters Communities in Action
Dufferin Board of Trade
HFFA Education, Literacy and Access (ELA) Working Group
Headwaters Food and Farming Alliance is a project of Headwaters Communities in Action, a registered charity working on "making life better, together".