Would you like to have…
… more energy and feel less stressed? YES!
… more strength and flexibility? YES!
… a lower risk of depression, obesity and heart disease? YES!
… less air pollution and road congestion in your neighbourhood? YES!
Seriously, sign me up! What is this amazing invention that will help make my family and neighbourhood healthier?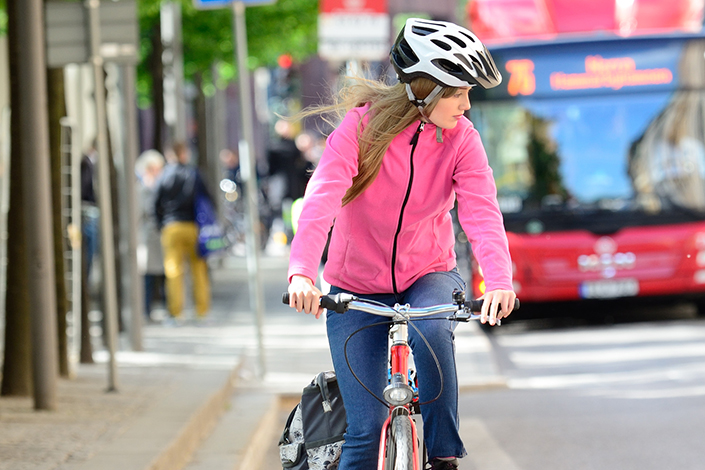 I'll be the first to admit I should let my feet hit the pavement or my pedals more often. I also know there are countless, exciting benefits to regular walking or cycling, as listed above. For many people, the best way to fit in walking or cycling is to make it part of their daily travels to their local store, park, work or school. Seems easy enough, right?
I will let you in on a little secret of mine: Walking, cycling or wheeling as a means of transportation (also known as active transportation) is something that has always intimidated me a bit. It is not that I'm not confident in my skills or awareness as a cyclist or pedestrian. I just don't always understand the "rules of the road". And to be quite honest, I am not sure that everyone else using the road at the same time as me does either. Sometimes, this uncertainty makes me feel a bit unsafe.
In the past decade, the rate of emergency room visits for cyclist collisions has increased seven percent among Guelph residents.(1) Guelph Police Services has also noted more pedestrian and cyclist collisions in recent years. For some drivers, it still seems novel to see a cyclist travelling amongst cars on the road, but did you know that bikes are, in fact, vehicles? Bikes are actually considered a vehicle in the Highway Traffic Act. This also means that all road users should know what rules of the road applies to cyclists. But, is this really the case?
Another reason I hesitate to walk or bike as part of my daily travels is because of distracted road users. I say road users because this does not just apply to those behind the wheel. Pedestrians who are glued to their phone screens or cyclists listening to a podcast on their ear buds are less aware all of their surroundings, including the vehicles whizzing by them. In some cases, a distracted cyclist or pedestrian can actually be charged with things like failure to yield, riding through a crosswalk or disobeying a traffic sign/signal, just to name a few.
More people, like myself, might feel more comfortable and safer walking to the local store or cycling to work if all road users were aware and practiced some every day rules of the road related to pedestrians and cyclists.
So, let's do a quick round of Did You Know? to get everyone on the same page with some of the basic rules of the road:
Did you know?
Since bikes are considered a vehicle, they should be driven on the road, as opposed to the sidewalk. The exception here are kids with a wheel diameter less than 24 inches.
Cyclists must get off of their bike and walk the bike through all crosswalks.
Traffic signals must be followed by all road users, including cyclists & pedestrians.
Pedestrians should cross the road at designated crosswalks or intersections.
Just like drivers, pedestrians and cyclists should not be distracted during travel. All road users should put away distractions (e.g., phones, ear buds) when travelling and pay attention to their surroundings.
Although this isn't a full list of everything you should know, it can at least get you (and I) started on knowing more, and hopefully, feeling more comfortable using the road as a pedestrian or cyclist on a regular basis.
Are there any other rules of the road that leave you confused? Or that make you hesitate to use active transportation?
For more information or questions on road safety in Guelph, check out the Guelph Police Service's Traffic Unit's Twitter account or their open house on Saturday May 13th at City Hall.
Also, you can check out any of the following resources for more information:
This blog was created in support of a partnership between the Guelph Police Services, City of Guelph, University of Guelph & Wellington-Dufferin-Guelph Public Health that aims for all Guelph motorists, cyclists and pedestrians to use roads without conflict or injuries.
(1) Ontario Ambulatory Care Data [2006-2015], Ontario Ministry of Health and Long-Term Care, IntelliHEALTH ONTARIO, Date Extracted: [2017 Feb 14].