Looking for lunchbox inspiration? Here is a weeks' worth of school lunch ideas from our video.
Monday—Bento Box
Monday's meal is an easy and delicious bento box inspired lunch. This a great way to switch things up and create fun, healthy lunches using your child's food favourites. For our bento box, we combined: mini pitas, cheese, shelled edamame, carrots and cucumber with a side of hummus for dipping. Paired with a pear (which can be cut up as well), Monday's lunch is complete!
Snack: yogurt and berries
Tuesday—Yogurt and Granola
Breakfast for lunch? We say yes! This yogurt parfait takes minutes to pack and is a definite go-to for school lunches. We combined plain Greek yogurt with local strawberries and fresh kiwis and packed it alongside a mixture of hearty granola and pumpkin seeds. Yum!
Snack: Vegetables & hard-cooked egg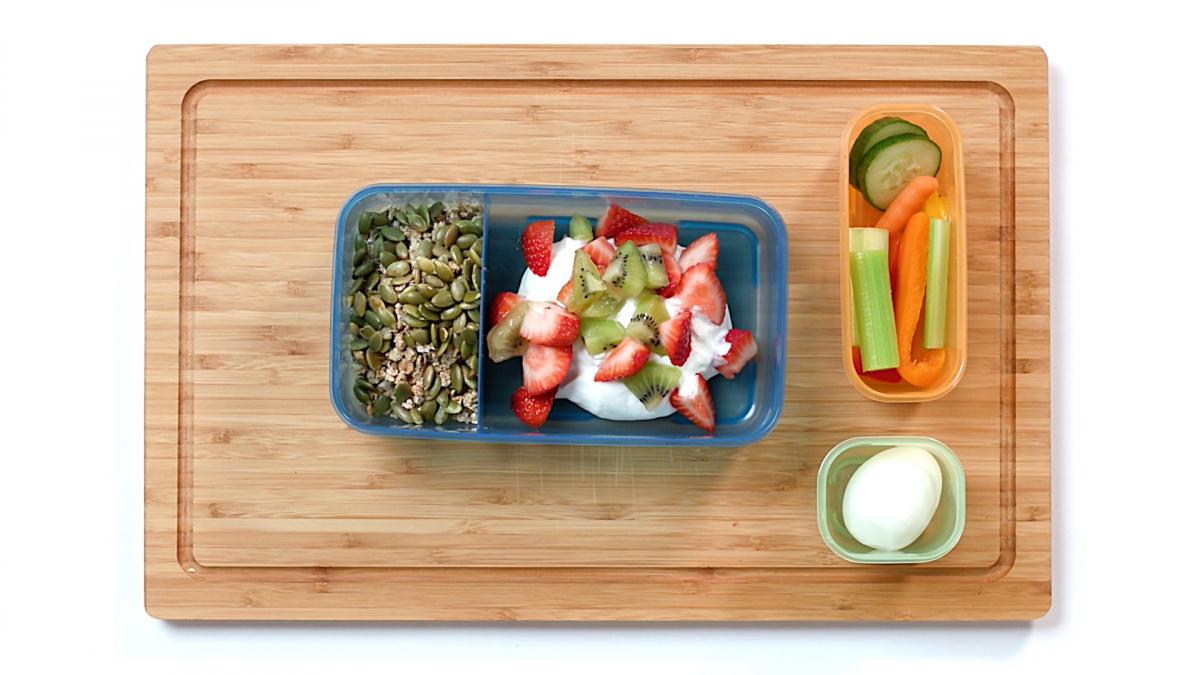 Wednesday—Wrap and roll!
Wraps are incredibly versatile and perfect for any lunchbox. For our wrap we kept it simple by mixing tuna with mayo and combining with bell peppers, cherry tomatoes and lettuce. Variety is key to avoiding lunchtime boredom – there are lots of other great wrap ideas you can try!
Snack: Banana & pumpkin seeds
Thursday—Leftovers
Leftovers sure can save the day when it comes to school lunches. From soups, sandwiches, pastas and more, there are endless options for revamping last night's dinner into a lunch your kiddos will love. For our Tuesday lunch we chose a super simple orzo and chickpea salad. See the recipe below.  
Snack: Cheese & vegetables​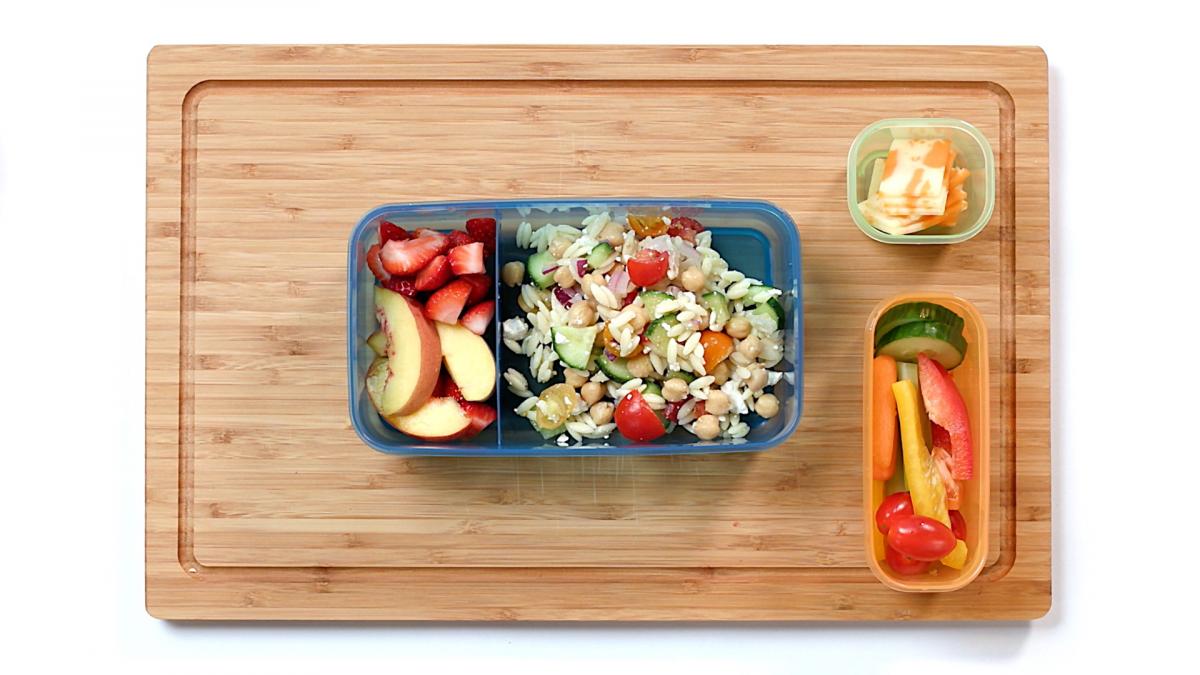 Friday—Taco salad
Who doesn't love taco salad? This deconstructed salad allows kids to assemble their own for a fun hands-on lunch. For our salad we used: lettuce, black beans, bell pepper, tomato, salsa and shredded cheese. Leftover ground meat or chicken are also great protein-rich options you can include.
Snack: Yogurt & peachers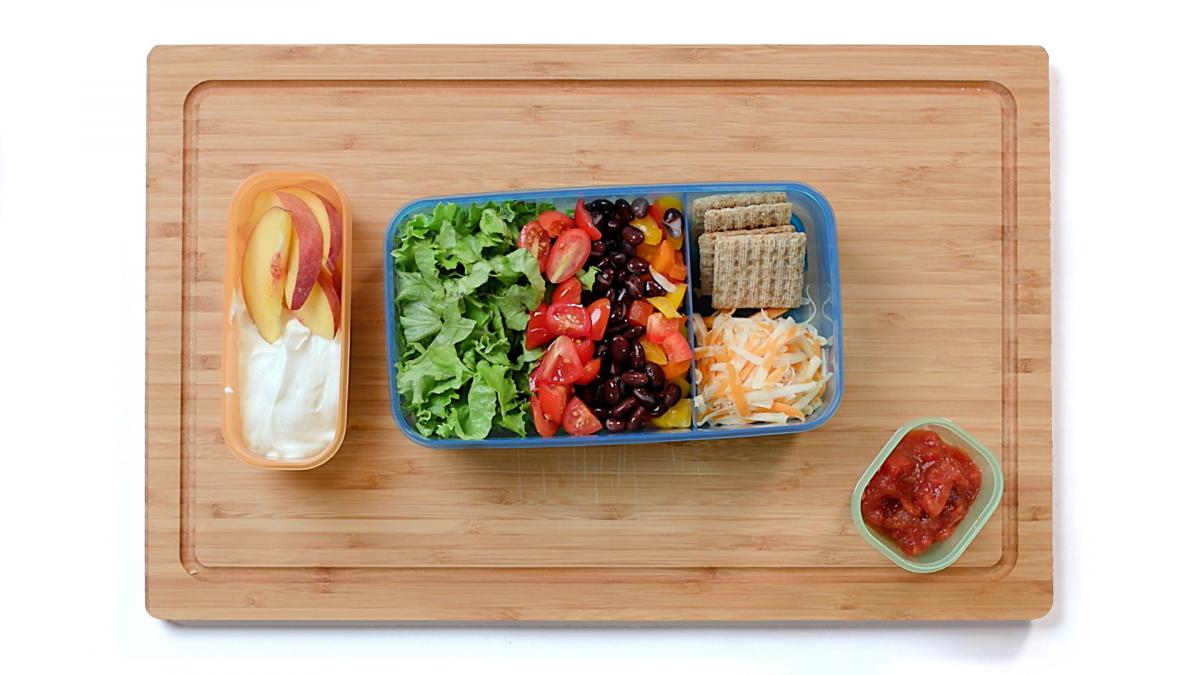 Is your child's school following a Balanced School Day schedule?
Balanced School Days include two nutrition breaks. You can prepare a "Snack" and "Lunch" for the first and second break, or vice versa. You can also divide both so that your child enjoys half the "Snack" and half  the "Lunch" at each break. Help your children figure out what and when to eat by creating labels (e.g. break 1, break 2) or use dividers (e.g. piece of cardboard) to divide the food for each break.
Recipe from video: Orzo and chickpea salad (6 servings)
Ingredients
1 cup (about 210 g) uncooked orzo pasta
1 tsp. (5 ml) lemon juice
1 Tbsp. (15 ml) extra-virgin olive oil
½ cup (about 75 g) chopped cucumber
¼ cup (about 40 g) finely chopped red onion
1 cup (about 200 g) chopped fresh cherry tomatoes
1 (19 oz./540 ml) can chickpeas, drained and rinsed
⅓ cup (about 50 grams) crumbled feta cheese
Salt & pepper to taste
Directions
Cook orzo as directed on package. Drain and rinse with cold water.
In a small bowl or measuring cup, stir together lemon juice and olive oil.
In large bowl, combine all ingredients and toss gently.
What are your child's lunchbox favourites?
Connect with us on Twitter @LetsTalkParents or on Facebook @LetsTalkParenting to share!
Check out UnlockFood.ca for more great tips and tricks to packing healthy school lunches.