By now, we all know the new routine: only leave your home for essentials such as groceries, medical appointments and medications, and the number of times you make these trips should be limited to once a week or every two weeks if possible.
What used to be a routine activity like going to the grocery store, has turned into what now feels like a Mission Impossible operation that requires careful planning, execution, protective equipment and carries a certain level of risk. The sudden change to old routines and the need to make new decisions can be overwhelming, cause stress and create "moral fatigue". Moral fatigue can happen when simple actions, like going for groceries, now has a significant moral consequence that could impact your health, as well as others', and the extra mental effort required can be exhausting.
To help ease anxiety and provide guidance on what you can do to protect yourself and others on these essential trips out of the home, here are a few tips to help guide your trips.
The Public Health Agency of Canada recommends using food delivery services or online grocery shopping if possible. However, if this is not an option, there are precautions you can take when you go out.
The first thing to remember is that there is currently no evidence to suggest that food is likely a route of transmission of the virus that causes COVID-19, as no reported cases have been linked to food. COVID-19 is most commonly spread from an infected person through:
Respiratory droplets from a cough of sneeze

Close, personal contact, such as touching or shaking hands

Touching something with the virus on it, then touching your mouth, nose or eyes before washing your hands
What you can do before you leave your house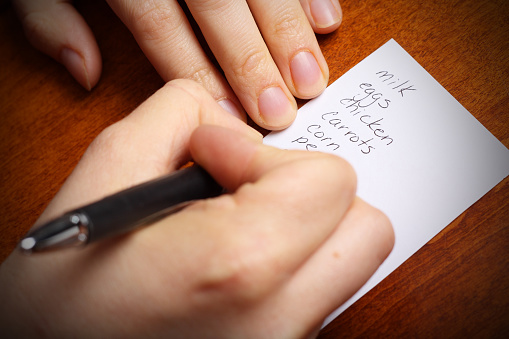 Make a shopping list – this will prevent wasting time wandering around the store. If you have a plan and a list you will limit your time in the store and your exposure to other people.

Write your shopping list following the layout of the store – group items based on the order you will walk through the store sections and aisles to save you time in store.

Plan to shop alone if you can – this will reduce exposure to other family members and will make your grocery trip more efficient.

Choose a grocery store that is taking precautions – most stores are trying to do their part to minimize the spread of COVID-19, such as providing hand-washing stations and disinfectant wipes at the door to wipe your hands and the shopping cart or basket handles before use.

If possible, plan to shop during off-peak hours – this will help to avoid crowds of people. Some stores are limiting the number of shoppers allowed in the store at once to help maintain physical distancing. Check out this online tool that provides frequent updates on the wait times at participating stores in your area.

Leave your reusable bags at home – ironically, now that we have finally got in the habit of remembering to bring the reusable bags to the store, most stores are no longer allowing shoppers to bring reusable bags into the store to reduce possible spread of COVID-19. Stores are now providing shoppers with the disposable plastic shopping bags for free to use for the time being.
What to do while you are at the store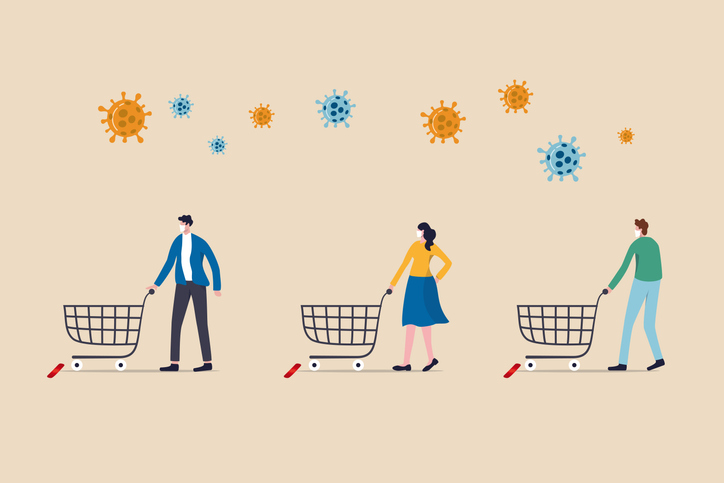 Wearing a cloth mask – the use of a non-medical mask or facial covering can be an additional measure you can use to protect others around you, even if you have no symptoms, in situations where you anticipate it may be challenging to keep a 2-metre distance from others. Wearing a non-medical mask (like a homemade cloth mask) has not been proven to protect the person wearing it and must be used correctly as there are limitations.

Wearing protective gloves– between disinfecting the cart or basket handles and washing your hands carefully for at least 20 seconds when you get home you do not need to wear gloves. However, if you wish to wear gloves, be sure to put on and take off in the proper way and dispose of them in the garbage.

Wipe handle of shopping cart or basket – most grocery stores have designated staff to regularly disinfect these high-touch surfaces. However, you may also wish to bring your own disinfectant wipes with you to wipe those surfaces before use.

Follow physical distancing protocols set in place – most stores have implemented helpful visual prompts for shoppers to remind them to keep a 2-metre distance from others, such as tape or sticker place markers on the ground and arrows to help direct the flow of traffic down aisles.
Avoid touching your face – try to touch as few surfaces as possible as you select your groceries in the store and only touch the items you intend to buy.

Be decisive with your choices – this keeps the flow of traffic moving well around the store as fellow shoppers may be patiently standing 2-metres behind you waiting to get into that section to select their own items.

Use a card with a tap option to pay – this is the lowest risk form of payment as it does not require you to touch anything handled by others, such as the keypad or cashiers' hand to exchange money.
What to do after you get home with your groceries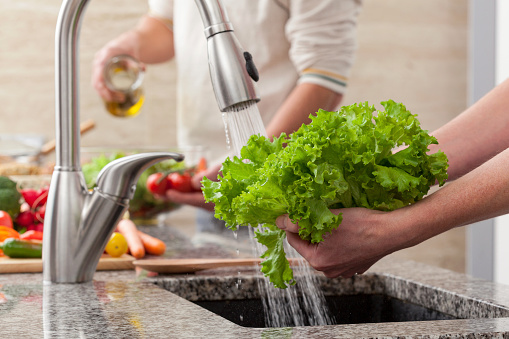 Unpack groceries on a surface that can be easily disinfected - Set down your groceries on a surface such as a kitchen counter, wash your hands with soap and water for at least 20 seconds. Put all your groceries away, then disinfect the counter surface again, and wash your hands again. There is no need to wipe and disinfect each individual item you unpack.

Rinse fruits and vegetables with water ONLY - It is not recommended to use soap and water to wash fruits and vegetables before eating them, just scrubbing them under cold, running water will be sufficient. Soap residue on fruits and vegetables can cause vomiting or diarrhea if ingested.
Tips for staying safe when ordering takeout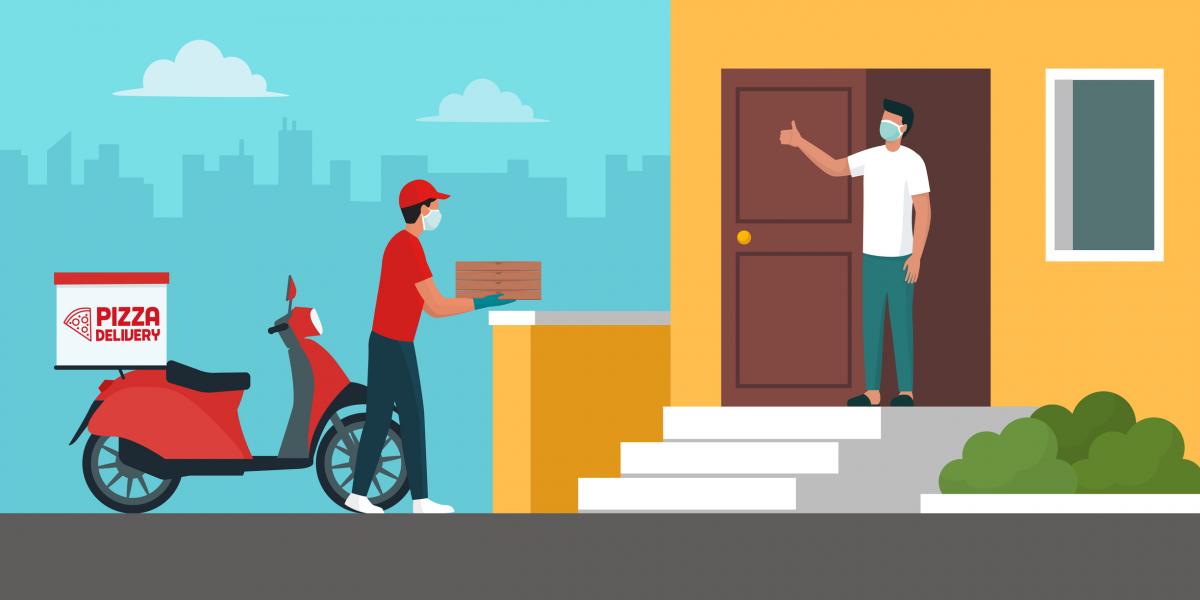 You may have heard that National Takeout Day kicked off on April 15, as Wednesdays have been chosen as Takeout Day in Canada as an initiative launched by the Canadian tourism board to help support local restaurants during the COVID-19 pandemic.
As mentioned previously, chances are quite low for transmission of the COVID-19 virus via food. However, it's always recommended to take precautionary steps to keep safe whenever interacting with others outside the people you live with.
Maintain physical distance of 2 metres as much as possible - Whether you are using a drive-thru service, picking up at a takeout counter or using a contact-free delivery service to your home, try to keep at least a 2-metre distance between yourself and others.

Use a card with a tap option or pay online – like at the grocery store, this is the lowest risk payment option as you avoid touching common surfaces, such as the machine, that others have handled.

Throw out takeout containers and packaging – to reduce your risk, it's best to discard all packaging from your takeout order as soon as possible and disinfect counters where placed.

Wash your hands before you eat – always be sure to wash your hands with soap and water for at least 20 seconds before eating.
Tips for other essential trips outside the home
Call ahead whenever possible – whether it is a medical appointment, refilling a prescription at a pharmacy, or picking up pet supplies, it's a good idea to call ahead to ensure you can accomplish what you intend to while at these various places.

Practice basic protective measures in EVERY public space – Be sure to wash your hands frequently; maintain physical distancing; avoid touching your eyes, nose and mouth; and cough into the bend of your arm. Plus follow any specific suggestions, such as in shared laundry spaces
Volunteering to help others
If you are interested in volunteering to help individuals who are not able to leave their house for essential trips due to being at high-risk, there are lots of opportunities to connect within your community and help where you can.
For up-to-date information about COVID-19, visit wdgpublichealth/coronavirus