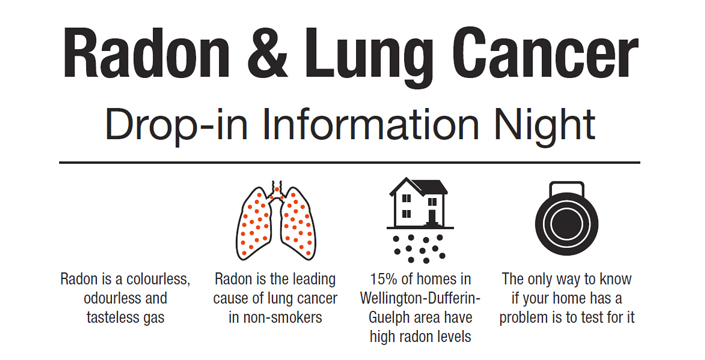 Radon gas is the second leading cause of lung cancer in Canada. It's second only to smoking. That means, for non-smokers, radon gas is the leading cause of lung cancer in Canada. 
I'm going to pause for a moment to let that sink in. And while that sinks in, I'd like to tell you a story.
I've spent the last several years trying to get people to test their home for radon gas. Why? Because radon is a naturally-occurring gas that forms underground and seeps into homes through basement foundations and can build up inside a house. Breathing in too much radon gas over several years can lead to lung cancer later in life. But there are steps you can take to project yourself. You can test your home, and testing is easy to do, and if testing shows your home has high radon levels, you can fix your home. 
Every home is at risk, so every homeowner should test their home. 
This has been a challenging message to get across. Despite annual national and local campaigns to raise awareness, most people still haven't tested their home for radon. After several years of supporting a local campaign, I was beginning to lose steam.
Around this time, I was giving a presentation at a local town hall about radon and lung cancer. Before I spoke, Mark*, a local resident, took the microphone to tell his story. Mark's wife had recently been diagnosed with lung cancer. The news not only devastated them, but also raised a lot of questions. Neither Mark, nor his wife, had smoked a day in their lives. They began searching for an answer, which is when they learned that, for non-smokers, radon is the leading cause of lung cancer in Canada and that radon gas can easily seep into homes. Mark immediately tested their home and found that radon levels were high. They hired a contractor to fix their home.
Listening to Mark speak with such determination to get his message across, in hopes that he might save someone else from the grief of a lung cancer diagnosis, reminded me that this message needs to be heard and repeated:
Radon is the second leading cause of lung cancer in Canada and high radon levels are found in many homes. Test your home - if radon is high, fix your home. Both are easy to do, and you might save a life.
For more information, drop-in to one of our Radon and Lung Cancer Information Nights in November. Come and ask experts questions about testing and fixing your home and purchase a discounted radon test kit for $35. These drop-in sessions are free and all are welcome. 
GUELPH 
Monday, November 6, 2017 from 5:00pm to 7:30pm
Victoria Road Recreation Centre, 151 Victoria Rd, Guelph
ORANGEVILLE
Thursday, November 9, 2017, from 5:00pm to 7:30pm
Alder St Recreation Centre, 275 Alder St, Orangeville
FERGUS
Tuesday, November 21, 2017 from 5:00pm to 7:30pm 
Centre Wellington Community Sportsplex, 550 Belsyde Ave. E., Fergus
If you aren't able to make it, but still wish to purchase a discounted Radon Test Kit, you can purchase a test kit online by visiting: WDGPublicHealth.ca/Radon. 
*Named changed to protect individual's identity