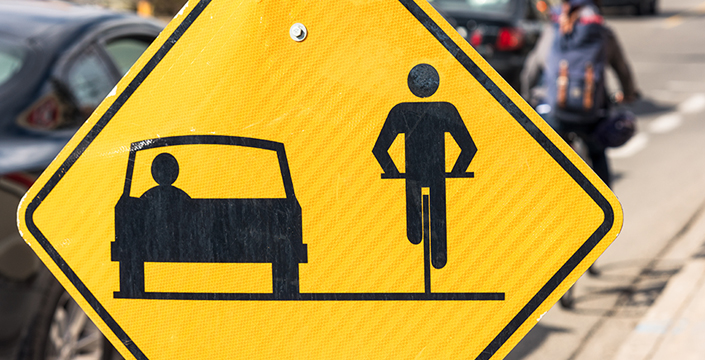 We all want to arrive safely at our destinations, whether we are motorists, cyclists or pedestrians. This November, the Guelph Police Service will be conducting an education and enforcement campaign along Gordon Street from Waterloo Avenue to Claire Road. The initiative is called Project Corridor. This stretch of road is a main artery through our city and has seen an increase in vehicle, cycling and pedestrian traffic. Police will be looking for distracted drivers, speeding, tail-gating, amber and red-light runners, unsafe turns and road-users disobeying signs. 
As this campaign gets underway, we wanted to offer a few helpful tips for staying safe in your car, on your bike and on your feet.  
On your feet: As a pedestrian, you may feel a little nervous with cars whizzing past you. Here are some tips to keep you safe while you walk, jog or run. 
Cross the street only at cross-walks or traffic lights. Don't cross between parked cars as drivers may not be able to see you.
At a light or stop-sign, cross when traffic has come to a complete stop. It' best to make sure vehicles come to a stop, rather than trusting that they will. 
Making eye-contact with drivers is a good way to ensure they see you!
Watch for traffic turning at intersections. Intersections can be hectic – always be alert for cars turning left or right as you cross through a light. 
Find out more about staying safe and following the rules as a pedestrian, here. 
On your bike: Cyclists and motorists have the same rights and responsibilities when using the road. Here are a few tips and tricks to keep you safe and responsible on your bike.
Cyclists must follow the same rules of the road as vehicles, for example: stop at stop signs, obey traffic lights and yield to pedestrians. 
Cyclists must use hand-signals to let other road-users know their intentions. 
Be predictable and wear bright-coloured clothing to ensure other road-users can see you.
Always keep your eyes looking ahead and scanning for hazards on or beside the road. 
As with pedestrians and motorists, scan an intersection before crossing.
Check out animations that explain how to navigate the road as a cyclist, here. 
In your vehicle: When you get behind the wheel, it is your responsibility to protect yourself and others by knowing and practicing the up-to-date rules of the road.
Driving a vehicle requires attention and focus. Don't drive while distracted – by your phone, or anything else. It's against the law and for good reason. Last year, distracted driving led to more road deaths in Ontario than any other factor, including drinking and driving and speeding. 
Just as for pedestrians and cyclists, always scan intersections before entering them. Don't simply trust that a red light means that all vehicles will stop. 
Always wear your seat-belt. It's a simple way to reduce your risk of injury.
Always leave a distance of one-metre between your vehicle and a cyclist when passing.  It's the law. The Guelph Police Service will be using their "one-metre device" to ensure motorists pass cyclists safely. Read about the one-metre device, here. 
To learn more about navigating intersections with cyclists, click here. 
It's the responsibility of all road-users to follow laws and be responsible, making it safe for the entire community. Let's share the road and make our community safer for all. 
This blog was created in support of a partnership between the Guelph Police Services, City of Guelph, University of Guelph & Wellington-Dufferin-Guelph Public Health that aims for all Guelph motorists, cyclists and pedestrians to use roads without conflict or injuries.