One way or another you heard about the harms and risks associated with radon gas in your home, so you did the responsible thing and bought a radon test kit through Public Health – good job! But we want to remind you of one very important step, and that is to make sure you open it and set it up! If you've shoved your test kit in the kitchen junk drawer, or it's still sitting in a pile of things you promised yourself you'd sort through, go and grab it.
Now that you've found your test kit, let's walk through the simple steps of setting it up from start to finish!
Inside the envelope, you'll find information sheets from the test kit supplier, as well as the packaged tester. Be sure to keep the envelope and the information sheets in a safe place, as you'll need them when your test period is complete. For quality assurance, some envelopes may include two test kits. If you received two testers, please carefully follow the instructions provided.
Open up your test and register online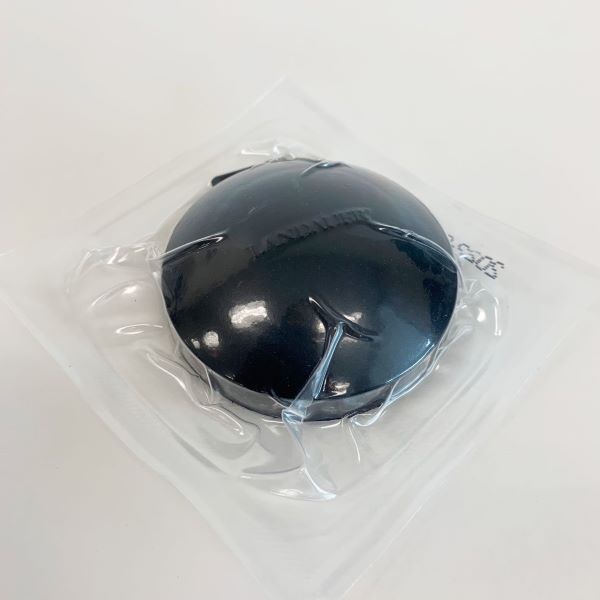 When you're ready to set up your test kit, open the clear plastic packaging. Remember, once the packaging is removed, the testing period has begun. This radon test is a long-term test and takes place over a minimum of three months. It's recommended that the test is completed over the winter months because this is when your home is the most sealed and windows are less likely to be open. The less fresh air exchange means a more accurate test reading.
After you've opened up your test kit, follow the instructions on the information sheets provided and register your test online. Be sure to fill out as much information as possible. Save your commission number and password to ensure you can log back in after your test is complete to finish the remainder of the form.
Pick the perfect place for your test
Now, where do you put the darn thing? It's recommended that you place your tester in the lowest level of your home where you spend four or more hours a day. For example, do you have a finished rec room in your basement where you or your family likes to hang out, watch movies, or even use as a bedroom? If so, we'd suggest you place your tester in your basement. However, maybe you never use your basement. You may go down there to do the laundry, or grab something out of the deep freezer, but you don't spend a lot of time down there. In this case, the basement wouldn't be your ideal testing area. In this case, we would suggest you test the main floor of your house.
Now that you've determined the level in your house to place your tester, choose a location based on a few general guidelines. For the ideal setup, it's best to hang the tester from the ceiling, roughly 50 cm (about 20 inches) away from any wall and 20 cm (about 8 inches) from other objects. You could also place it on a shelf or hang it on an interior wall (not an exterior wall), as long as there is good airflow around it. Ideally, the height should be at about head height, as this is the air that you and your family are breathing.
Additional testing guidelines
Place the tester roughly 1 metre (3 ft) away from any doors, windows, air vents, fireplaces, fans, or other sources of air movement.
Do not place it in the kitchen, laundry room, closets, washrooms, cupboards, mechanical rooms, sumps, crawl spaces, or nooks within the foundation.
Do not place it near, or on, electrically powered equipment such as televisions, stereos, or speakers.
Do not place it in direct sunlight.
Submit your test and get your results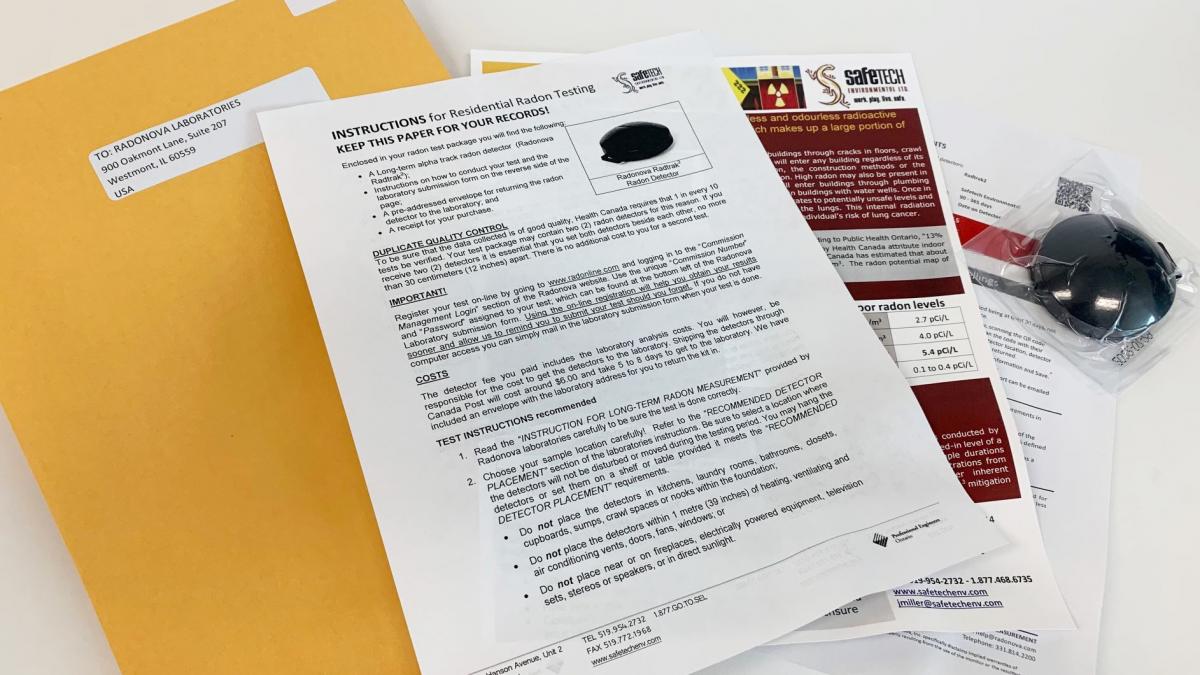 Follow the instructions included to send your completed test to the lab for analysis. If you ship with Canada Post, the price should be between $7 and $10. A private courier will be more expensive. Please note that the contents of the detector are plastic only. It does not contain radon gas, radioactive gas, or powdered components.
Haven't had a chance to purchase a test kit yet?
If you have not purchased your radon test kit yet, it's not too late. Until December 20, 2019, you can purchase a test kit at the same discounted price of $40 (incl. taxes) at wdgpublichealth.ca/radon. Use code WDGPH to apply the discount. If you choose to pick up your kit at one of our offices, it will be ready for you as soon as you complete the online payment. Please be sure to bring your order number with you.
Questions?
If you have questions about radon gas, or about properly setting up your test kit, please feel free to contact us at radon@wdgpublichealth.ca.