When we reflect on the past year and the largest vaccination campaign in WDG Public Health history, we recognize the partners, staff and volunteers who made it possible. Keeping residents safe and healthy and ending the pandemic have been at the heart of the campaign's success. As of today, over 212,000 people in Wellington-Dufferin-Guelph (or 78.9% of the eligible population) have been vaccinated against COVID-19 and that number continues to climb.
When vaccines first became available in January 2021 the supply WDG Public Health was receiving was manageable enough for vaccines to be administered in small-sized clinics or through mobile clinics at long-term care and retirement homes and other congregate settings. However, as the number of doses in these shipments increased and more of the general population became eligible to receive a vaccine, clinics with bigger spaces with large staff and volunteer teams were needed so that more people could be vaccinated quickly.
Bringing vaccines to centre ice 
Hockey rinks and community centres were identified as places that could handle large groups of people indoors while maintaining adequate physical distancing. WDG Public Health asked municipalities for support and without hesitation they offered the Alder Recreation Centre (Dufferin County), Centre Wellington Community Sportsplex (Wellington County) and West End Community Centre (Guelph) to serve as our new mass immunization sites. But to ensure that we reach as many arms as possible, the University of Guelph, the Guelph Family Health Team and Linamar Corporation stepped up to host partner clinics. These partner contributions have also been instrumental in helping Guelph become one of the most vaccinated cities in North America.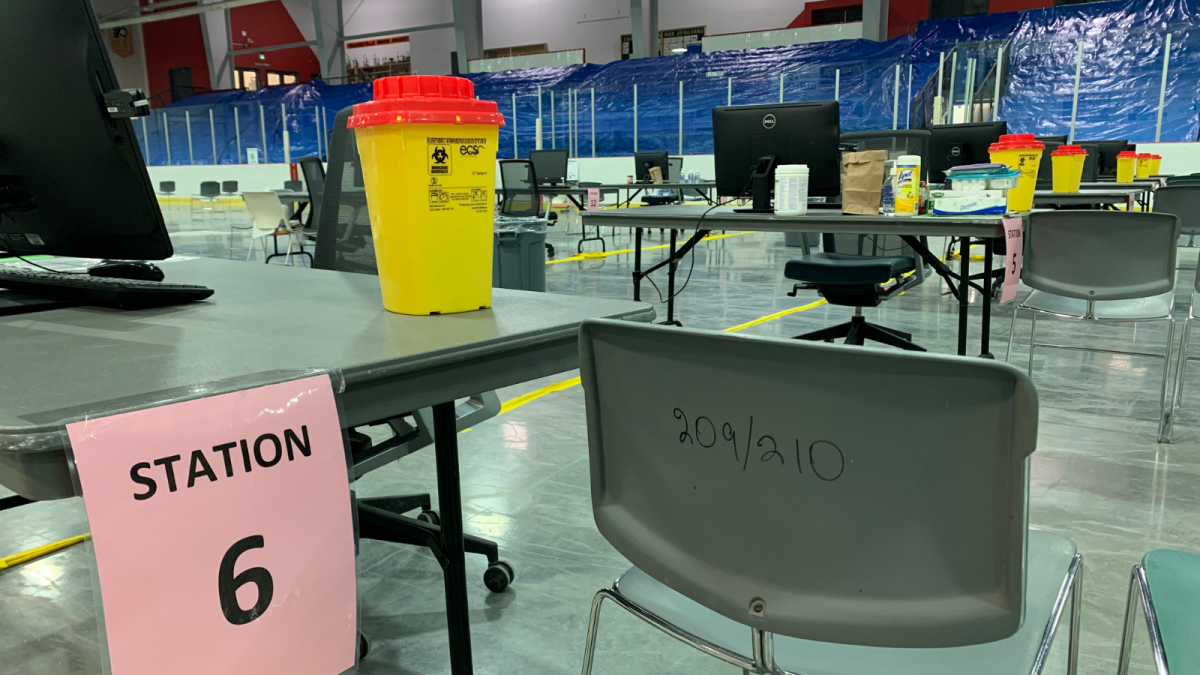 A student centre transformed 
The University of Guelph hosted a very successful mass immunization clinic in its University Centre. The clinic was staffed by members of the Guelph Family Health and the University's Hospitality Services. From its opening on March 15 until it closed on August 6, the clinic administered more than 82,000 doses of the vaccine.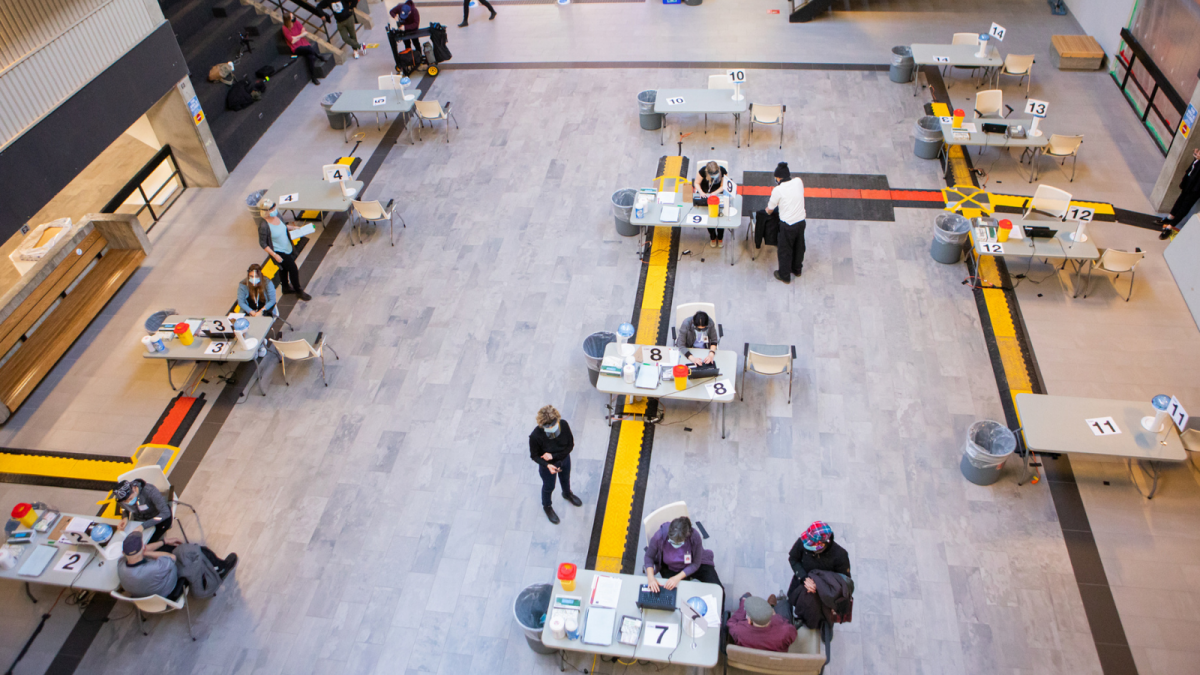 (Photo supplied by the University of Guelph with credit to Laurel Jarvis.)
Safeguarding our community 
On Woodlawn Road in Guelph, Linamar Corporation and its Skyjack division launched Project Safeguard. This involved reconfiguring its space into a mass immunization clinic. It onboarded staff and volunteers who helped vaccinate people in the community and by the time it wrapped up its operations more than 57,000 doses had been administered.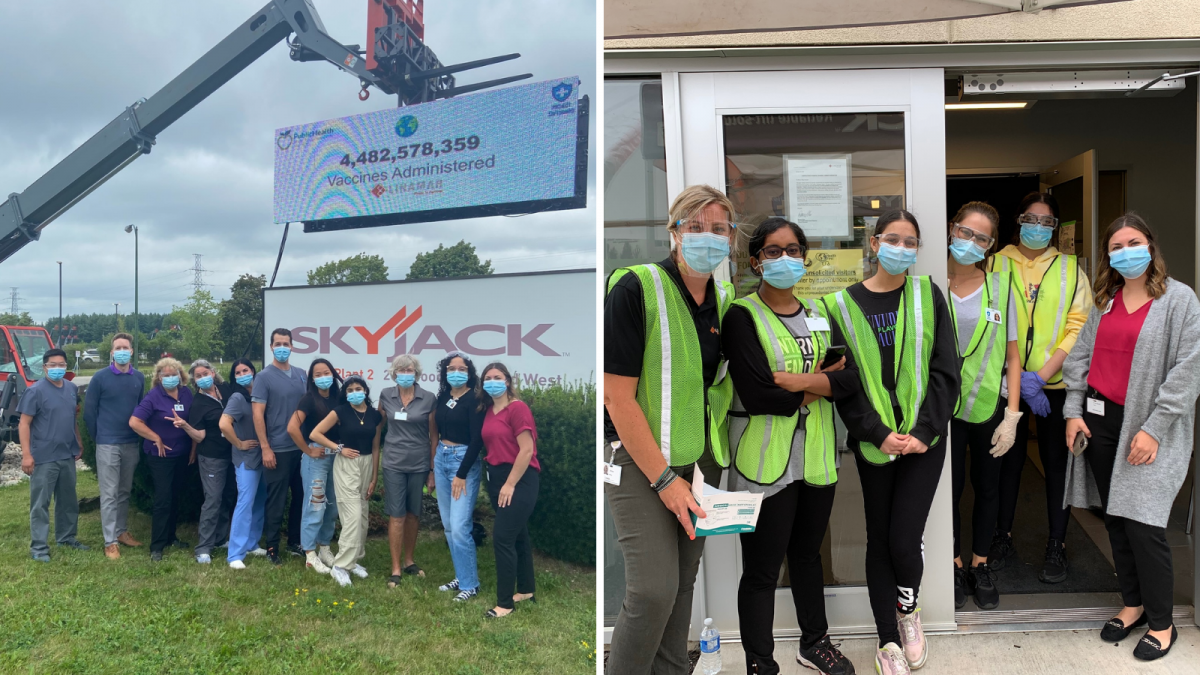 (Photos supplied by Linamar Corporation.)
With the incredible leadership and coordination from these partners and many others who made these clinics possible, hundreds of thousands of people in our community were vaccinated in a few short months. The operations of these clinics, including their locations made it possible for as many people as possible to get vaccinated as quickly as possible.
At the height of the campaign, when thousands of people were receiving vaccines each day, our partner clinics at University of Guelph, Linamar/Skyjack as well as the ones at West End Community Centre, Centre Wellington Community Sportsplex and Alder Recreation Centre were very active and high energy places. The staff and volunteers helped guide people through the process smoothly and with compassion and care. Read more in this Guelph Mercury Tribune letter to the editor. Because of them, these mass immunization sites were comfortable and positive. And if there were tears, it was often tears of joy and relief.
Words of gratitude from the community
"Thank you for your hard work! This clinic ran amazingly smoothly and everyone was so upbeat and friendly."

"Got mine on Saturday and the people working at the Guelph West End Community Centre were wonderful…….thanks to all the nurses doing the vaccines and keeping an eye on people on their 15min time! Keep those vaccines coming WDG"

"Just got my first shot! Amazing process and awesome staff here at the university clinic in #Guelph! Very well organized ultra professional setup here folks, thank you @WDGPublicHealth! #ForYouForMeForWDG"

"It's been said before but bears repeating: immense thanks to the Alder clinic (Orangeville) for being so well-run and staffed with kind, hardworking folks! Great experience there, both time. Sad to see you go, but you've all done your jobs."

"I want to congratulate WDG-Public Health on the excellent job they are doing with the vaccine rollout. I received my 1st dose at the Fergus Sports Plex today and they were all great!!! You made it easy for us older folks. It was fast…including my 15 minute sit in a chair I was in and out in less than 30 minutes!"

"My family had great experiences at this clinic! Thank you Linamar crew!"
As summer ends, this phase of WDG Public Health's vaccination program ramps down. The clinic at West End Community Centre has ended and the clinics at Centre Wellington Sportsplex and Alder Recreation Centre will relocate off the ice surface and into smaller rooms on site. We will continue working with many other community partners to provide the COVID-19 vaccine at community pop-ups and in these smaller spaces.
As this shift is underway, we recognize the leadership and commitment from our partners this year to protect our communities and help bring this pandemic to an end.
To the organizations, staff and volunteers who were a part of these clinics, thank you! In addition to ensuring our residents had access to vaccines, you gave our region hope when we needed it most.