After months of stress, changes and challenges that the COVID-19 pandemic has brought on all of us, there is a new glimmer of hope that we may have an end in sight.
Vaccines have arrived to our country, our province and now in our own community. WDG Public Health has been working behind the scenes since July to develop a regional immunization plan to ensure we were ready when the vaccine arrived. This became a reality when the first shipment was delivered on January 5. As you read this, thousands of people in our priority populations in Canada have been vaccinated, protecting them from the illness and harm this virus can cause.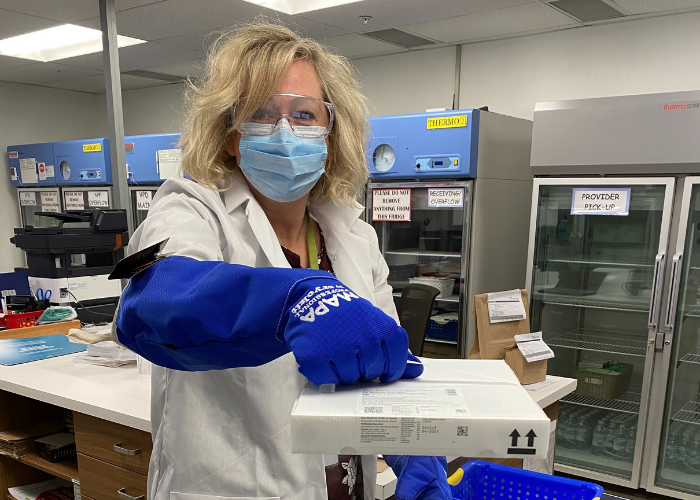 Pictured above: Susanne Dunford, Vaccine Medication Coordinator holds first shipment of vaccines.
Locally, the first vaccines were determined to go to staff of the Shelburne Long Term Care Home, who experienced the worst COVID-19 outbreak in the WDGPH area in the spring of 2020.Of its 59 residents, there were 56 COVID-19 cases. It was a heartbreaking and difficult experience for the staff, residents and families.
"We had huge support from our community, our families, staff," said Sarah Ricci, Programs Manager, when asked about the experience. "It was difficult but with the support from everybody we made it through, we came together as a team."
Since then, significant global advancements on a COVID-19 vaccine have been made and the vaccine is considered the ultimate layer of protection against the virus. As planning for the initial vaccine supply got underway, it was determined that they should first be administered to priority people including those who work, provide essential care and live in long-term care and retirement homes.
On January 6, 2021, a group of five Shelburne Long Term Care Home staff who faced the tragic outbreak nine months earlier, rolled up their sleeves and made local history as the first COVID-19 vaccines administered in WDG. The first was Sarah Ricci.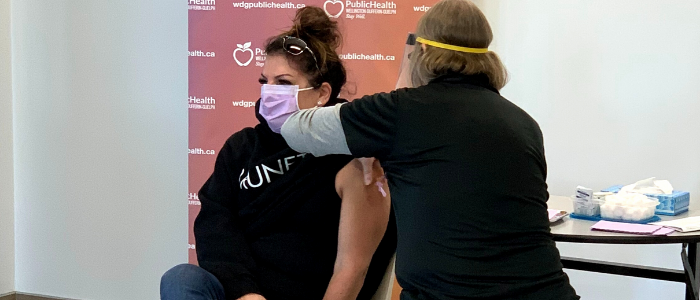 Pictured above: Sarah Ricci receives the first COVID-19 vaccine in WDG.
We asked each of the Shelburne staff how they felt about receiving their first dose of the vaccine.
Linda Short, Dietary Aid said "I am relieved. We are doing the right thing for the greater good."
Patricia Hulse, PRN shared, "I am very excited and happy to have another layer of safety to add to ourselves."
Micah Ricci is Sarah's brother and he started working at the care home after noticing the challenges his sister was experiencing and wanted to help. He said "I have gained so much care for our seniors since starting. This is a great moment."
Many of us can relate to being nervous about getting a needle. Jessica Rovella, PSW commented on the experience, stating "I was a bit nervous at first because it is such a new thing. But it was really quick and not painful at all."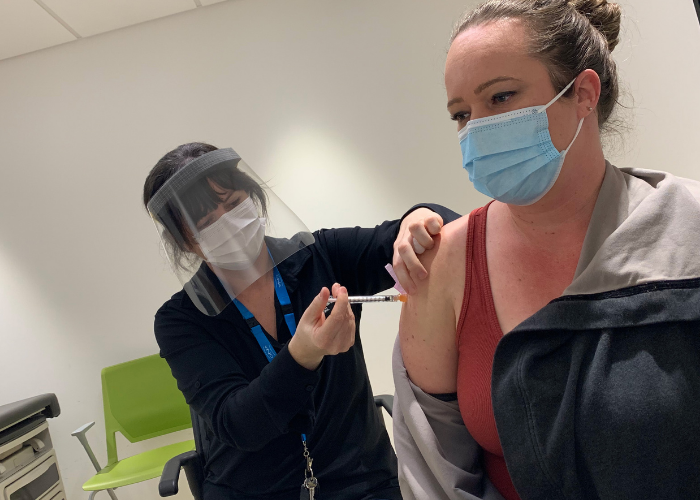 Pictured above: Jessica Rovella receives her first dose of the COVID-19 vaccine.
For the Public Health Nurses who were the first trained to administer the vaccine, the hopeful sentiment is similar.
"It feels really good getting to this point," said Andrea Bothwell, long-time WDG Public Health Nurse. "It feels like we're now on the offensive after months of defending. Now we can start vaccinating and protecting as many people as we can. We're all very excited."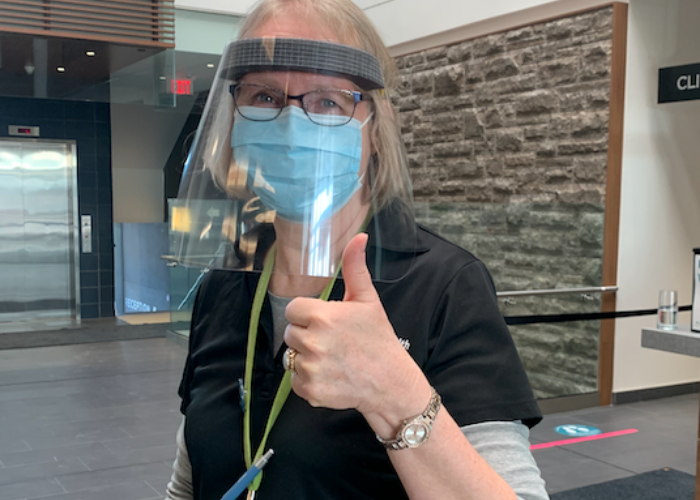 Pictured above: Andrea Bothwell, Public Health Nurse, after administering the first vaccine in WDG.
Now that the vaccine has arrived and the first vaccines have been administered, the journey towards immunization is officially underway. Mass vaccination against COVID-19 will save people's lives and help our local businesses, province and country recover from the pandemic. But until a vaccine is widely available and a large percentage of the population becomes immune to COVID-19, we must all continue to follow public health measures to help protect ourselves, our families and our communities.
This vaccine brings hope for our entire community that we can finally make COVID-19 history.