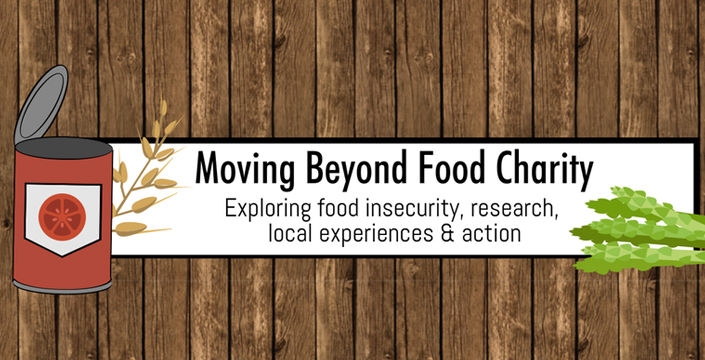 As a public health nutritionist, it will come as no surprise that I like to eat and talk about food. I enjoy good conversation with family and friends around a healthy meal. It's also as a result of the work I do that I'm aware that 14% of the households in Wellington, Dufferin and Guelph experience some level of food insecurity. That means that over 1 out of 10 households have inadequate or insecure access to food due to financial constraints.
Despite the abundance of food on grocery store shelves, many members of the community do not have access to healthy food to support optimum health. Food insecurity is a serious issue in Wellington, Dufferin and Guelph and the number of individuals impacted is not decreasing. 
Food insecurity affects health
Good health is dependent on getting adequate healthy food throughout your lifetime. Food insecurity has been associated with a number of health risks including:
Food insecure individuals, both adults and children are more likely to report poorer health.
Food insecure individuals are at higher risk of developing chronic conditions such as diabetes, heart disease, cancer and more. 
Food insecurity makes it difficult to manage chronic health problems.
Severe food insecurity especially impacts children's well-being and increases the risk of asthma, depression and suicide ideation in adolescence and early adulthood.
Food insecurity is often associated with high levels of stress, and mental health issues such as depression.
What can we do about food insecurity in our communities?
Community partners are organizing an event to engage more people in the community around the issue of food insecurity. Join the conversation that's happening to address this serious problem and find solutions.
Moving Beyond Food Charity – Exploring food insecurity, research, local experiences and action
Thursday, October 19, 2017
7-9 p.m.
Innovation Guelph
111 Farquhar St., 3rd Floor
Guelph, ON  N1H 3N4
To register for the event, click here. 
Presentations by:
Theatre for Living Performance
Valerie Tarasuk, Principal Investigator, PROOF Insecurity Policy Research
Mike Balkwill, Provincial Organizer, Put Food in the Budget Campaign
Sponsored by: 
Guelph Wellington Task Force
Wellington-Dufferin-Guelph Public Health
Guelph Community Health Centre
The Seed