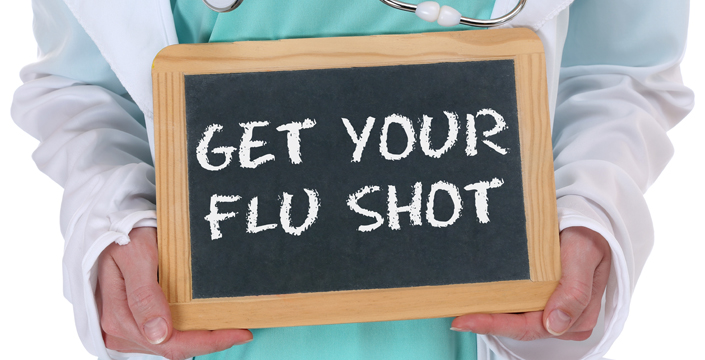 Just like the weather, it's hard to predict if the coming flu season is going to be better or worse than the last one. The flu season we have in North America is usually influenced by what happened previously in Australia and the southern hemisphere during its flu season. This year, scientists in Australia are reporting that the country experienced the worst flu season on record. Regardless of what's coming our way this year, getting the flu shot is the most effective way to prevent the flu and its complications.
Traditionally I get the flu shot around the same time that I arrange for winter tires to be put on my car. Both are an important part of my getting-ready-for-winter routine. By getting the flu shot, I reduce my own risk of getting the flu. I also protect both my parents who are in their eighties. Older adults are at greater risk of complications and hospitalization if they get the flu. My mother, who is unable to get the flu shot for medical reasons, relies on the rest of us to reduce her risk of exposure to the virus.
A flu vaccine for older adults
My father, on the other hand, has been getting the annual flu shot for many years, even though the flu vaccine is reportedly less effective for his age group. This year, I made sure to tell him that there is a better option for older adults. Fluzone High-Dose is a flu vaccine that is specially formulated for people aged 65 and older. It is approximately 25% more effective in preventing the flu in people 65 years of age and older. 
Unlike the standard flu vaccine which is free, Fluzone High-Dose costs $80 and is available by appointment at Wellington-Dufferin-Guelph Public Health. Adults aged 65 and older can call 1-800-265-7293 to book an appointment to get the vaccine. It is also available by prescription from a family physician.
Who should get the flu vaccine?
It's easier than ever to get the flu shot. It's available at many pharmacies, from your family doctor or by booking an appointment at Wellington-Dufferin-Guelph Public Health (call 1-800-265-7293). 
The flu vaccine is recommended for:
All individuals aged 6 months and older including pregnant women.
Individuals who are considered at high-risk of complications from the flu including young children (under 5), adults over 65, residents of nursing homes or long-term care facilities, those with underlying medical conditions, and indigenous peoples.
It is strongly recommended for anyone who could transmit the flu to individuals who are at high-risk of complications (e.g., child care workers, health care providers).
Flu season is coming. Are you prepared?