Immunization has been recognized as the most efficient, successful and cost-effective investment in health history. But, even with all of our efforts to reduce disease we still face outbreaks around the world.
In the news we hear measles is at Disneyland, mumps is skating through the National Hockey League and even pertussis (whooping cough) is in our community. These outbreaks are reinforcing the fact that immunization is more important than ever!
Did you know that when a large percentage of the population is vaccinated, the spread of disease is reduced?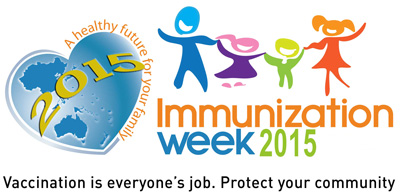 This week, April 25 to May 2, is Immunization Week in Canada and we want to highlight the importance of vaccination - that it has saved more lives than any other health invention, and raise awareness of how vaccinations can help prevent outbreaks in our communities.
Let's take a look at our own community. In 2014 Wellington-Dufferin Guelph Public Health has had:
4 cases of pertussis (whooping cough)
1 case of measles
220 cases of influenza
4 cases of chickenpox
3 cases of hepatitis A
That is why we are encouraging everyone to look at your immunization record and check to see if your vaccinations and your family's are up-to-date.

In Ontario we have a routine immunization schedule that we follow.
We know it seems like a lot of vaccinations at once, but research has shown that our bodies can handle it. Every day our bodies come into contact with millions of germs, causing our immune system to work continuously to protect us.
At present, infants begin receiving the recommended vaccines at two months of age. They come into contact with only 34 of the disease-causing substances called antigens – just 34 of the millions handled every day by our immune systems!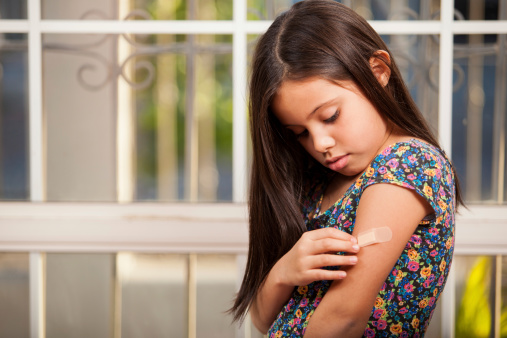 By following the recommended schedule you and your child will get the best possible protection against vaccine-preventable diseases. So why put yourself or child at unnecessary risk of getting the disease?
Speaking of risk - did you know that it is rare to have a serious adverse reaction to an immunization? Minor reactions, such as redness or swelling at the site, are expected – but serious side effects happen in less than one per million doses of vaccine given in Canada. The benefits of vaccination do outweigh the risks!
To actually visualize and understand the risks of vaccination, look at this comparison between motor vehicle deaths and unintentional poisoning deaths compared to serious allergic reactions to Measles Mumps & Rubella (MMR) vaccine. You might be surprised by the results.
Now, that you understand the risks, you might ask how to know the information you are receiving about vaccinations is accurate?
When looking for accurate vaccine information, make sure you carefully check the source of information on the internet. You can do this by making sure that:
The medical information has been reviewed by experts and that those experts have included their credentials, degrees and positions
The site has provided sources from medical journals or other scientific reports
The source of information has been identified
The information is current and you are able see when the information was posted or last revised
Let's make our community safe and free of vaccine-preventable diseases.
We can start by doing the following:
Know that vaccines help to keep you and your family healthy and help prevent the spread of disease
Check to make sure you and your family's immunization records are up-to-date. Not sure? Ask your health care provider what vaccines you or your family may need
Protect you and your family by getting the vaccines you need on time
If you need help with managing your family's immunizations you can download this free Immunize.ca app.
Did you know that Public Health collects immunization records for children 0-18 years old?
Although some doctors report immunization records, it is not a requirement. It is your responsibility to report childhood immunizations to Public Health. You can do this by emailing us at vaccine.records@wdgpublichealth.ca or calling us at 1-800-265-7293 ext.4396.
We encourage you to celebrate Immunization Week with your family and friends by talking about the importance of vaccines and how they can make a difference in your community.
Stay well. Vaccinate.