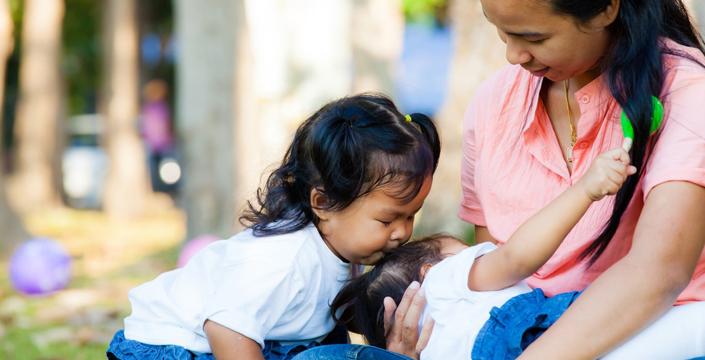 At first I was unsure about nursing my baby in public. I thought I had to get comfortable breastfeeding at home before I could even think about feeding my baby where others could be watching. My baby had other plans for us though! When she was three days old I had to take her for a medical appointment. It was hard enough just getting out of the house - I had just given birth, barely slept in three days, and my breasts were completely engorged. I felt physically and emotionally drained!
I nursed my baby just before we left and crossed my fingers that she would stay full at least long enough to get where we were going. When the doctor examined her she woke and started crying. By the end of the appointment she was moving her mouth and trying to suck on her fist so I knew she needed to eat - and unlike adults, when babies are hungry they just can't wait! You can probably guess what happened next - I fed her right then and there, in front of strangers in the doctor's waiting room. 
When children grow up seeing babies suckling at the breast and women breastfeeding their babies in public, it is understood to be the natural way to feed a baby. Unfortunately, many women today give birth to their first baby never having seen a woman breastfeed. Almost 80 per cent of women leave the hospital exclusively breastfeeding but that number declines quickly in the early weeks after birth. We believe that public support for breastfeeding and breastfeeding in public will help more women start and continue breastfeeding.   
During the month of October, Public Health will be displaying life-size cut-outs of local breastfeeding women in businesses throughout Wellington, Dufferin, and Guelph. If you see one of our cut-outs, please take a selfie with it and share on social media. Tweet @LetsTalkParents #BreastfeedAnywhereWDG and post on Facebook @LetsTalkParenting. Public Health will retweet and share your pictures. What a fun way to support breastfeeding anytime, anywhere!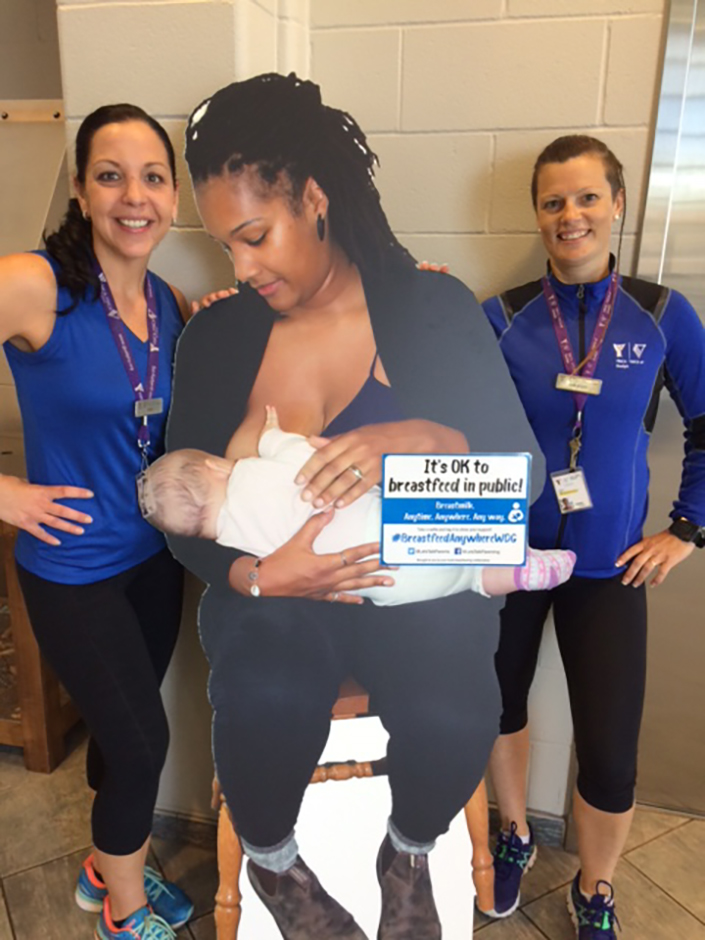 Wondering what you can do to increase your own confidence to nurse in public? Here are some ideas we hope you find helpful:
Taking prenatal classes, the more you know, the more confident you will be. 
Learning to hand express after 37 weeks of pregnancy. This will help you feel more comfortable with your own body and breastfeeding.  
Dropping-in to a breastfeeding café or going to a La Leche League meeting. These are great places to meet other nursing mothers, to see them breastfeed, and to practise public nursing in an accepting environment.  
Check out other breastfeeding supports in your community for more information and support.
Think about other places outside your home where you would feel safe breastfeeding and choose those places as your next steps. Your confidence will continue to grow as breastfeeding (and breastfeeding in public) becomes a part of your everyday life. Before you know it, you will be going on spur-of-the-moment trips without a detailed plan about where to breastfeed.  
Breastfeeding anytime, anywhere made my life so much easier and allowed me to breastfeed longer. I could feed and calm my children when they needed it. They are happy, healthy kids and I feel good knowing that breastfeeding has contributed to that.