We are all aware of the habits that help keep our mind and body healthy—eat well, exercise, stay up to date with  immunizations and health screenings, connect with loved ones, and so on. However, one important part of our overall health that is often overlooked  is our oral and dental health. This may be especially true over the last two years during the COVID-19 pandemic. Did you know that April is Oral Health Month? Oral Health month is  an important reminder on how we can best take care of our smiles at every age. 
Financial obstacles to dental care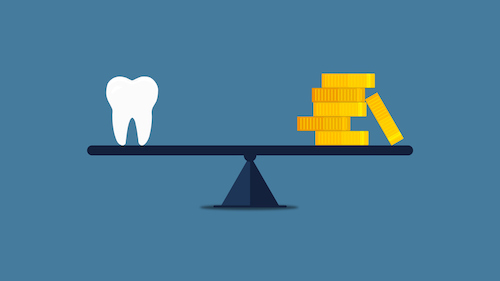 Visiting a dental professional twice a year is a very important part of a good oral health routine. Many families and individuals have put off seeing a dental professional in recent years due to the COVID-19 pandemic, and, even more, have forgone seeing a dental professional because of financial barriers. Without dental coverage through a private insurance plan, dental care is expensive. In fact, according to Statistics Canada, one in five Canadians avoid seeing a dental professional because of the cost. Avoiding seeing a dental health professional can lead to serious dental emergencies, infection, and long-term health implications. However, programs such as the Seniors Dental Program and Healthy Smiles Ontario (HSO) seek to overcome financial barriers to accessing dental care. 
Wellington-Dufferin-Guelph Public Health provides free dental care to children and youth aged 17 and under through the Healthy Smiles Ontario (HSO) program. Our dental hygienists provide preventive dental services such as teeth cleanings, sealants and oral health education, to eligible children and youth. Call our dental line at 1-800-265-7293 ext. 2661 to learn more about the program and see if your family qualifies. We also encourage you to call if your child is experiencing a dental emergency and you cannot afford the cost of care. We may be able to help through the Emergency HSO program. 
Establishing a good oral hygiene routine for kids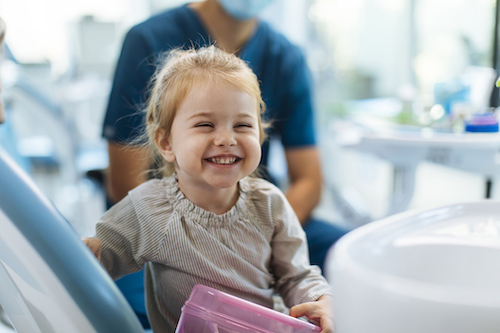 Establishing a good oral hygiene routine is important in maintaining long-term dental health, self-esteem and a sense of well-being — and the earlier you start, the better! Children should start seeing a dentist around age one. Once they begin visiting the dentist, it's important to continue to go regularly. In addition to seeing a dental professional regularly, establishing a routine at home is just as important. 
A good routine should include: 
Cleaning your child's teeth twice daily with a soft-bristled baby toothbrush as soon as teeth appear. 
Use toothpaste containing fluoride. Fluoride is a mineral that helps to strengthen enamel.  Children should only use a pea-sized amount or less if they cannot spit out their toothpaste. 
Become friends with floss! Flossing cleans between the teeth where many cavities start. 
Choose fresh fruits and vegetables for snacks. Limit sticky and sweet foods like candy and soda drinks as these can contribute to tooth decay.   
You can also refer to our resource, "Healthy Teeth Healthy Kids" Dental Checklist for Children 0-6 years (Also available in multiple languages). This helpful checklist can help you keep track of your child's dental health and development and find helpful tips on establishing a good oral health routine early. You can also print a Monthly Brushing Chart as a visual reminder for your child to brush every morning and every night. They'll look forward to colouring it in twice a day, helping to make brushing more fun. 
Tell us what's making you smile and WIN!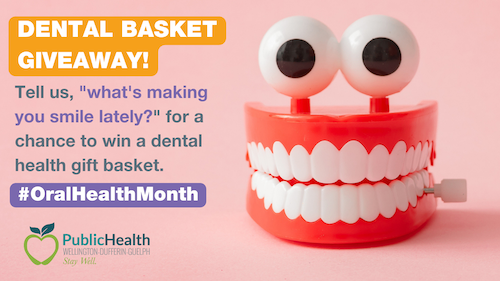 To celebrate Oral Health Month, Wellington-Dufferin-Guelph Public is giving away two baskets filled with oral health goodies to help keep your smile healthy. All you have to do is visit our Facebook or Instagram page and tell us what's making you smile lately. Contest closes at midnight on April 30, 2022. Winners will be chosen at random on May 3, 2022 and contacted via Facebook or Instagram on May 4, 2022. 
To enter: 
Look for one of our "#OralHealthMonth Dental Basket Giveaway" posts. 
Comment or reply to the post answering the question "What's making you smile lately?" 
*One entry per comment per platform (Facebook/Instagram). The contest is open to residents of Wellington County, Dufferin County and City of Guelph only. Must be at least 18 years old. Refer to the full rules and regulations on our website.
For more information about our dental programs and services, including the Healthy Smiles Ontario program, visit wdgpublichealth.ca/hso or call us at 1-800-265-7293 ext. 2661.