Substances circulating in the Guelph area may be stronger than usual, based on:
3 suspect-overdose deaths in the past 30 days
7 suspect-overdoses reported in the past 5 days
Red fentanyl has been indicated in recent events and is believed to be especially toxic. It is important to assume that all substances may be more toxic than what is normally available.
If you are using alone, the National Overdose Response Service is a free and anonymous service that you can call to check in on you. Available toll-free, 24/7 at: 1-888-688-NORS (6677).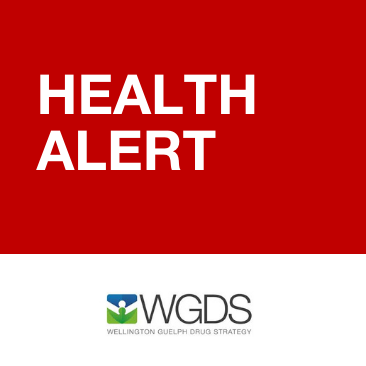 Reduce your risk of overdose
Carry naloxone
Never use alone*
Start low and go slow (e.g., with any new purchase, start with 1/3 of a normal dose)
Use the Consumption and Treatment Services Site (CTS) supervised by health professionals at Guelph's Community Health Centre – open Monday through Sunday, 9 a.m. to 5 p.m. Last entry at 4 p.m.
www.wdgpublichealth.ca/harmreduction
*It's important to maintain 2 metres distance to protect yourself during the COVID-19 Pandemic. Phone a friend or call the Overdose Prevention Line (1-888-853-8542) to make sure someone is available to check up on you.