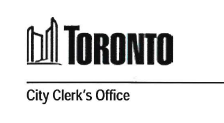 August 3, 2018
SENT VIA E-MAIL
To: Interested Parties
Subject: A Public Health Approach to Drug Policy (Item HL28.2)
The Toronto Board of Health, during its meeting on July 16, 2018, adopted Item HL28.2 as amended, and:
Directed that the report (June 28, 2018) from the Medical Officer of Health be forwarded to the following for their information and endorsement:


Ontario-based public health boards, the Boards of Health in the 10 largest Canadian cities, the Ontario Public Health Association, the Association of Local Public Health Agencies, and other appropriate public health bodies; and
key organizations of families of drug users and users of drugs.

Called on the federal government to decriminalize the possession of all drugs for personal use and scale up prevention, harm reduction, and treatment services.
Called on the federal government to convene a tast force, comprised of people who use druges and their families and policy, research, and program experts in the areas of public health, human rights, substance use, mental health, education, and criminal justice, to explore options, including best practices and equitable measures, for the legal regulation of all drugs in Canada, based on a public health approach.
To view this item and background information online, please visit: http://app.toronto.ca/tmmis/viewAgendaItemHistory.do?item=2018.HL28.2
Sincerely,
Julie Lavertu/ar
Secretary
Board
Sent (via e-mail) to the following Boards of Health in Ontario (via e-mails to the Public Health Units), organizations, and individuals:
Algoma Public Health Unit
Brant County Health Unit
Chatham-Kent Health Unit
Durham Region Health Department
Eastern Ontario Health Unit
Grey Bruce Health Unit
Haldimand-Norfolk Health Unit
Haliburton, Kawartha, Pine Ridge District Health Unit
Halton Region Health Department
City of Hamilton Public Health Services
Hastings Prince Edward Public Health Unit
Huron County Health Unit
Kingston, Frontenac, Lennox & Addington Public Health
Lambton Public Health
Leeds, Grenville and Lanark District Health Unnit
Middlesex-London Health Unit
Niagara Region Public Health Department
North Bay Parry Sound District Health Unit
Northwestern Health Unit
Ottawa Public Health
Oxford-Elgin-St. Thomas Public Health Unit
Peel Public Health
Perth Public Health Unit
Peterborough Public Health
Porcupine Health Unit
Public Health Sudbury & Districts
Renfrew County and District Health Unit
Simcoe Muskoka District Health Unit
Thunder Bay District Health Unit
Timiskaming Health Unit
Region of Waterloo, Public Health
Wellington-Dufferin-Guelph Public Health
Windsor-Essex County Health Unit
York Region Public Health
Dr. Mylene Drouin, Directrice regionale de sante publique, Direction regionale de sante publique du CIUSSS du Centre-Sud-de-I'lle-de-Montreal
Dr. Patricia Daly, Chief Medical Health officer and Vice President, Public Health Vancouver Coastal Health
Dr. David Strong, Zone Leade Medical Officer of Health, Alberta Health Services
Dr. Vera Etches, Medical Officer of Health, City of Ottawa
Dr. Chris Sikora, Medical Officer of Health, Edmonton Zone
Dr. Lawrence Elliott, Regional Medical Officer of Health, City of Winnipeg
Dr. Elizabeth Richardson, Medical Officer of Health, City of Hamilton
Dr. Chris Mackie, Medical Officer of Health and CEO, Middlesex-London Health Unit
Dr. Liana Nolan, Commissioner and Medical Officer of Health, Region of Waterloo
Dr. Jessica Hopkins, Medical Officer of Health, Regional Municipality of Peel
Pageen Walsh, Executive Director, Ontario Public Health Association
Loretta Ryan, Executive Director, Association of Locoal Public Health Agencies
Lana McDonald, Administrative Assistant, Urban Public Health Network
Sheila Jennings, Ontario Leader, Moms Stop the Harm
Sean O'Leary, Founder, Executive Director, and Outreach and Partnerships Chair, We the Parents
Steve Cody, Say No for Nick
Jennifer Johnston, Niagara Area Moms Ending Stigma
Healther Alce-Steffler, Co-Founder, Tanner Steffler Foundation
Donna May, Director, Canadian and International Focus, mumsDU
Andrea Kusters, Grief Recovery After Substance Abuse Passing
Frank Crchlow, Representative, Toronto Drug Users Union
Jordon Westfall, President, Canadian Association for People Who Use Drugs
cc (via e-mail):
Dr. Eileen de Villa, Medical Officer of Health, Toronto Public Health
Elena Zeppieri, Administrative Assistant to the Medical Officer of Health, Toronto Public Health