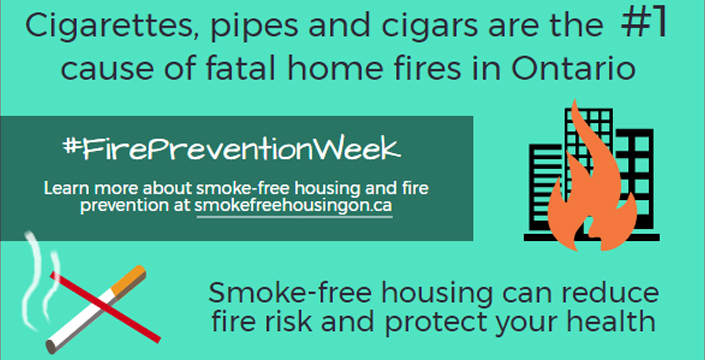 While I was at a meeting talking about the benefits of smoke-free policies in apartments and condos, a Property Services Officer shared a story about a fire in their building– caused by someone who fell asleep on the couch with a lit cigarette. Unfortunately, this is not a unique story – cigarettes, cigars and pipes remain the #1 cause of fatal home fires. One in four home fire deaths are caused by smoking, and 65% of these fires are caused by throwing away smoking materials unsafely. 
While the connection of smoke-free housing to fire safety is especially relevant, there are other benefits of smoke-free housing that are important to consider as well.
Health Benefits of Smoke-Free Housing 
Second-hand smoke (SHS) contains more than 7000 chemicals – 69 of which are cancer causing. The link between SHS and lung cancer, heart disease, respiratory infections, sudden infant death syndrome and asthma, has long been established. Unfortunately, there is no safe level of exposure to SHS. Smoke travels between units in apartments and condos through air ducts, balconies, windows, doorways, cracks, even plumbing and electrical lines. There are also potential health effects associated with third hand smoke (THS) – which is a collection of toxic chemicals that gather in dust, furniture, carpet, etc., which remain in the environment long after the SHS or cigarette have been removed.
Financial Benefits of Smoke-Free Housing
Landlords report that it typically costs 2-3 times more money to turn over a smoking unit compared to a non-smoking unit. Costs are associated with extra cleaning and painting, and in more extreme cases, damage to appliances, drywall and insulation. Smoking in the home can decrease property value by up to 29%. On top of the cost savings from smoke-free policies – there is also a great demand for smoke-free housing. Given the choice, 80% of Ontarians would rather live in a smoke-free building.
You might be wondering, what can I do about smoke-free housing?
If you are a tenant, you can ask your landlord to adopt a smoke-free policy. Resources for tenants can be found at smokefreehousingon.ca.
When choosing housing, you can also check out this listing of private sector, non-profits, condos and co-ops which have either gone smoke-free or are in the process of doing so. 
If you are a housing provider, you can adopt a smoke-free policy in your building. Smoke-Free policies are legal and enforceable. Smoke-Free Housing Ontario (SFHO) has information and resources on their website for Landlords, Property Managers, Co-op members, and Condo owners. You can also contact your local public health unit for support. 
It can take time to transition to a 100% smoke-free building. Unless it is a new building, no-smoking policies only apply to new leases, which means existing residents will still be able to smoke in their unit. 
Fire Prevention Week
Fire Prevention Week, October 8 to 14, is a good time to focus on fire and life safety. Matt Valeriote, Assistant Chief Fire Prevention Officer with the City of Guelph, shares some helpful safety tips on how you can prevent a fire caused by smoking: 
Encourage smokers to smoke outside
Do not put out cigarettes in plant pots, which may contain a mix of peat moss and shredded wood that can easily catch fire
Never smoke in bed or while feeling drowsy
Use large, deep ashtrays that can't be knocked over
Put out ashes and butts with some water and empty into a metal container—not a plastic garbage pail
Make sure you have working smoke alarms installed on each floor of your home and outside each sleeping area
Matt urges – "Prepare and practice a tried, true and tested fire escape plan. Remember, every second counts so plan two ways out!" 
Additional Resources
Ontario Office of the Fire Marshall
Home fire escape planning grid