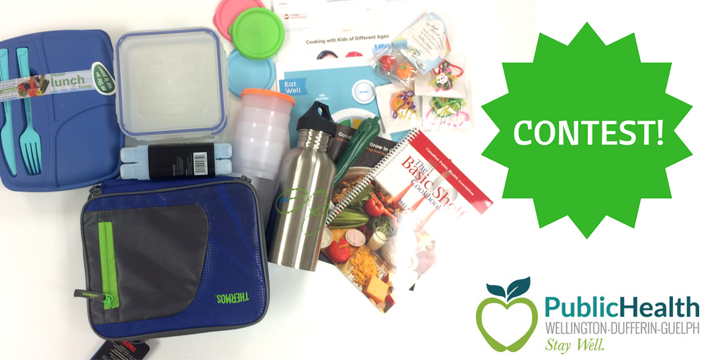 Note: This contest is now closed.
Yes, it's that thyme of the year again. You're getting the kids ready for school, while dealing with end of summer vacation sorrows. On top of everything, you have to start planning school lunches- that's a bit too munch! We are feeling pretty up beet here at WDG Public Health – lettuce lighten the load!
Like and share this video on Facebook from August 22 to September 5 for your chance to win a pretty sweet "Back to School" Lunch Swag Bag. It includes an insulated lunch bag, containers, ice packs, helpful resources and a $25 grocery store gift certificate!
Contest Details
For each share and like on Facebook, your name enters a draw to win the"Back to School" Lunch Swag Bag.
Contest winner can pick up the swag bag from any of the public health offices in: Shelburne, Mount Forest, Orangeville, Guelph (Shelldale Centre), Guleph (Chancellors Way), Fergus. 
Eligibility: Must be a WDG resident over the age of 18 years. Full contest rules can be found here. 
Good luck! We're totally rooting for you!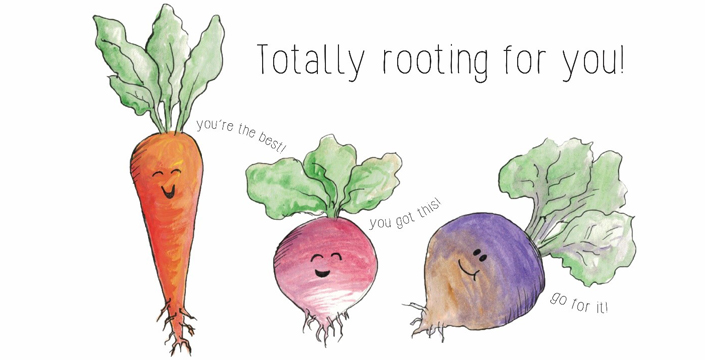 Image courtesy of Kendra Edwards Design.
Find the recipes from the video below.
Crunchy Chickpea Salad Sandwich (makes about 4 servings)
A fun vegetarian twist on the classic chicken salad! 
Ingredients:
Chickpeas (1 can) 
Red bell pepper (1)
Celery (1-2 stalks)
Dill pickles (4-5 small pickles) 
Green onion (1)
Garlic, 1 clove 
Mayonnaise, 3 Tbsp
Mustard, 1 tsp
Lemon, juice of ½ a lemon
Salt and pepper, pinch  
Directions:
Open the can of chickpeas, drain and rinse. 
Mash up the chickpeas in a bowl using a potato masher. You can mash with a fork too. Make the texture chunky or smooth – it all depends on how much mashing you do! 
Finely chop celery, dill pickles and red bell pepper. Slice the green onion and mince the garlic. Add these ingredients to the bowl with mashed chickpeas. 
Add the mayonnaise and mustard. Squeeze the juice of ½ lemon into mixture. Add a pinch of salt and pepper. 
Mix it all up to combine well! 
Add the mixture to whole grain bread, wrap, or crackers or enjoy on its own! 
Switch it up! Try making this recipe with other veggies and flavours along with the mayonnaise and seasonings. For example, you can try using pickles, shredded carrots, and red onions. Or how about celery, red onion, and grapes for a sweet touch? 
Source: The original "chickpea salad" recipe by Angela Liddon can be found here.
Salad Kebabs (makes about 2 kebabs)
These kebabs have all the salad goodies but just on a stick to make it fun! 
Ingredients: 
Cucumber (4-5 slices)
Cherry tomatoes (4)
Lettuce (1-2 leafs)
Cheese (1oz, 30g)
Directions:
Cut cucumber into ½ inches slices. Tear lettuce into smaller pieces. Cut cheese into cubes. 
Fold lettuce up. Add the folded lettuce, cherry tomato, cucumber and cheese on a skewer in whatever order you'd like! 
Fruit Kebabs (makes about 2 kebabs)
Use any fruit your child likes for these fruit kebabs. If you'd like to prevent browning of fruit, such as apples, place fruit into water with some lemon juice before skewering.  
Ingredients:
Grapes (6-8)
Strawberries (6-8)
Directions:
Chop up strawberries into bite sized pieces. 
Place grapes and strawberries on skewers in alternating order. 
Looking for more support? 
Call us at KIDS LINE to chat with a public health nurse about parenting tips and strategies.  Connect with us on Twitter @LetsTalkParents, Facebook and sign up for the monthly e-newsletter. Visit Eat Right Ontario for healthy school lunches and snacks information and kid-friendly recipes.