Over the past year we have been hearing from adults in our community about how difficult it can be to maintain good oral health if you can't afford dental care. On a regular basis men and women share the tough decisions they have to make when it comes to dental care:
How can a labourer, with no dental insurance, afford the estimated cost of $400 to clean his teeth? If he does clean his teeth, then he must also find the money to get his cavities filled as well.
Should a mother deny herself $1,700 in basic restorative care (getting cavities filled) in order to pay for her 19-year-old daughter's badly needed root canal?
Does a person take unpaid time off work to visit the dentist knowing that getting their teeth cleaned will cost more than they make in a day?
Do you try to save up enough money to visit a dentist and have a root canal, or do you just have another tooth pulled?
Do you manage the pain of a dental abscess by visiting the emergency room – again?
Local research conducted in 2014 by the Task Force for Poverty Elimination confirms that for some members of our community there are significant obstacles when it comes to maintaining good oral health. Cost was cited as a barrier by 76% Guelph residents with low-income who were surveyed. Seniors are also of particular concern. Health Canada reported that 53% of Canadian adults between age 60 and 79 do not have dental insurance. Often those employed on contract or in low-paying positions are also without benefits.
WDG Public Health provides clinical services to children and youth aged 17 and under through publicly funded dental assistance programs, including Healthy Smiles Ontario. We can screen for oral health issues and dental disease, and provide preventive services such as cleaning and topical fluoride.
Last June, we began asking some parents of the children we were seeing about their own dental care. In our conversations with these parents we have discovered that the cost of dental care is keeping these adults from seeking it. Of the 75 adults we talked to, 20 had not been to the dentist for over seven years and six more had never visited a dentist.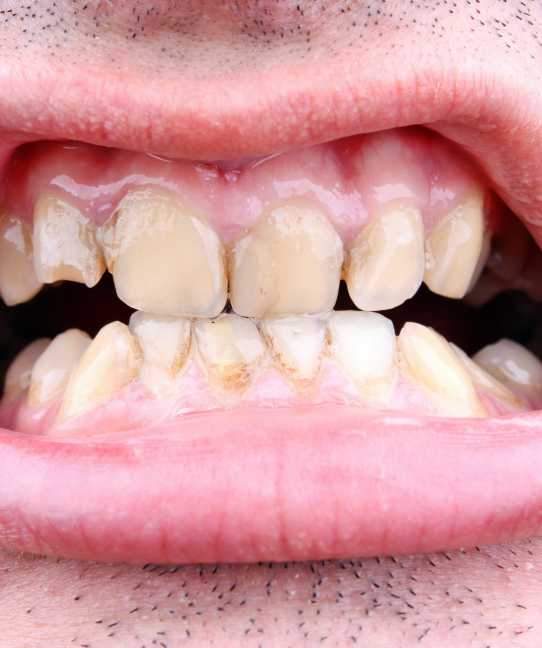 April is Oral Health Month in Canada, a time to remember how important our teeth and gums are to our health and well-being. In our 2015 Oral Health Status Report we noted that tooth decay and gum disease, the two most common forms of disease in our mouths, can lead to pain and infection. Evidence indicates that poor oral health is associated with health complications such as heart disease and diabetes. Poor oral health in pregnancy can also lead to premature birth and low birth weights for newborns. All this can be easy to forget if you're not in any discomfort due to a hole in your tooth, an abscess or an infection in your gums.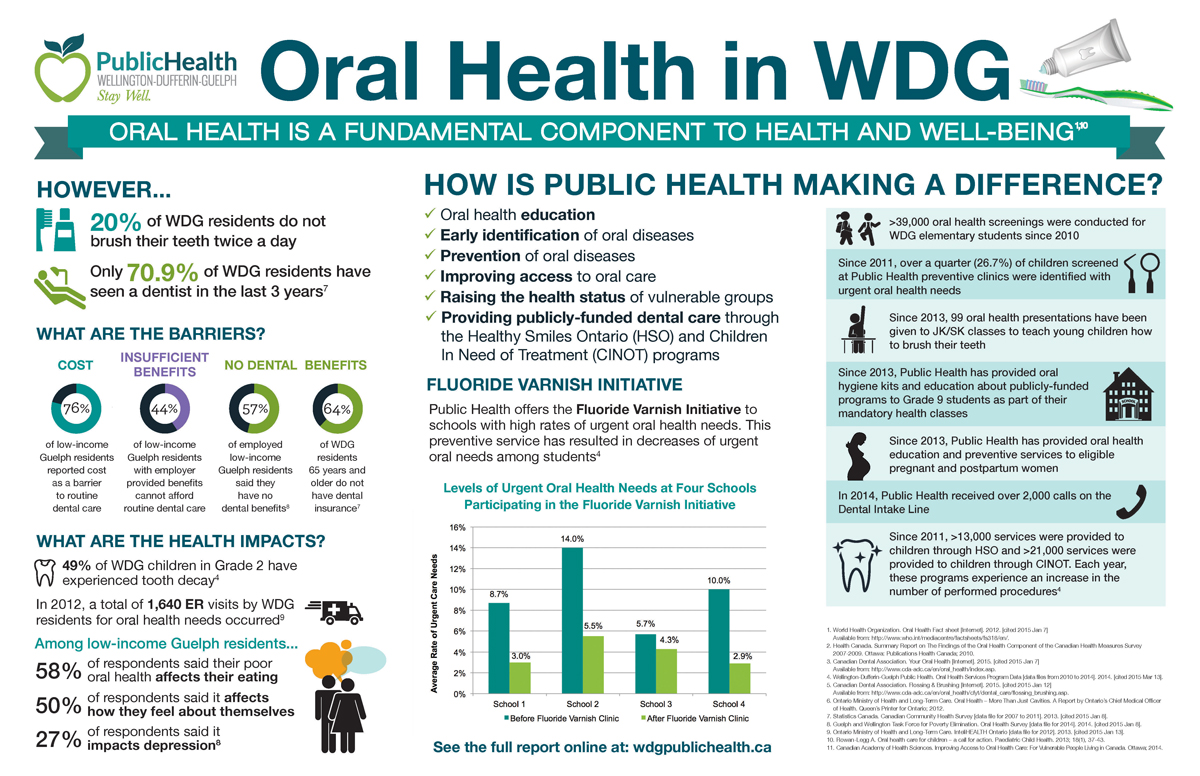 On April 15 Guelph will host the Ontario Oral Health Alliance Symposium which is focused on access to dental care. Individuals and organizations will share their stories about the challenges we face and opportunities to improve.
It is not entirely clear why the health of our teeth and gums is so often separated from the health of the rest of our bodies. We are fortunate to live in a country where the medical costs of getting a broken bone fixed are not the responsibility of the individual; but getting a hole in your tooth filled is. Fortunately, some of us have benefits from our workplace that help us afford dental care, but many of us do not.
We encourage you to share your dental care stories or challenges with us, using the comment section below.