New Referrals
For NEW referrals only: If you live in Wellington County, Dufferin County or the city of Guelph, and have concerns about your child's speech and language skills, you can self-refer to the Wee Talk program. Please call Here4Kids at 1-844-4-KIDS-11 (1-844-454-3711) to speak to a service coordinator. Phones are answered Monday to Friday, from 9 am to 4 pm.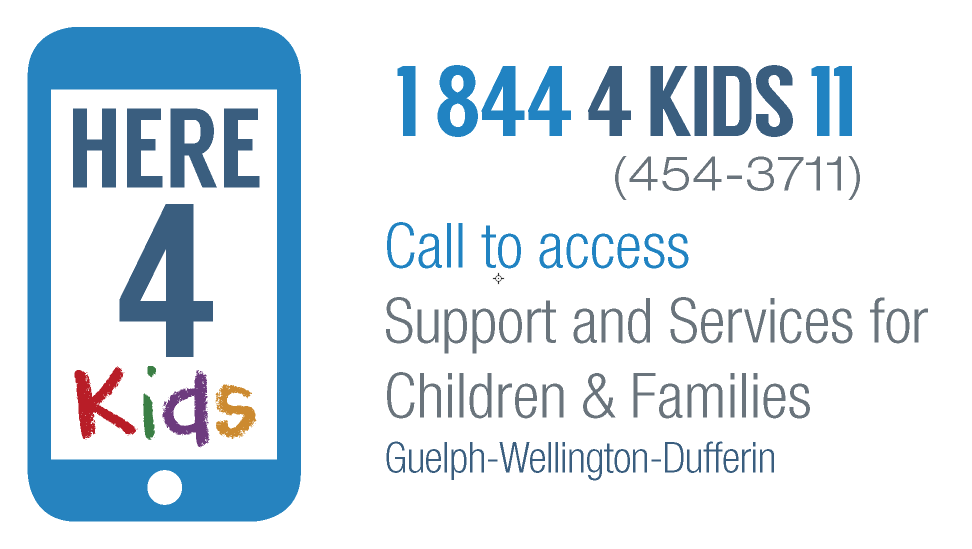 What happens when I call Here4Kids?
When you call Here4Kids, you can share your questions and concerns with a service coordinator. The coordinator will complete a Wee Talk referral with you over the phone.
Wee Talk will contact you to make an appointment for an assessment with a speech-language pathologist. The speech-language pathologist will assess your child's communication skills and discuss next steps with you.
All Other Inquiries
For all other inquiries regarding the Wee Talk program, please contact the Wee Talk program directly at 1-800-265-7293 ext. 4676.
What happens if my child needs speech and language therapy?
Wee Talk offers different types of therapy and programming:
Home programming
Parent education and training
Individual and group therapy
Consultative services (in daycares)
Transition to school support (JK/SK)
The speech-language pathologist will determine what kind of services are best for your child and will help you understand the choices available. Parents and caregivers are included in all types of therapy, and help make therapy successful.