Pre-registration is available to PRIORITY GROUPS ONLY as listed below.
Reminders: Please do not register if you are not part of these groups. Eligibility will be checked prior to appointments being booked. Vaccination appointments are not yet available for the general public. No walk-ins will be accepted at clinic locations.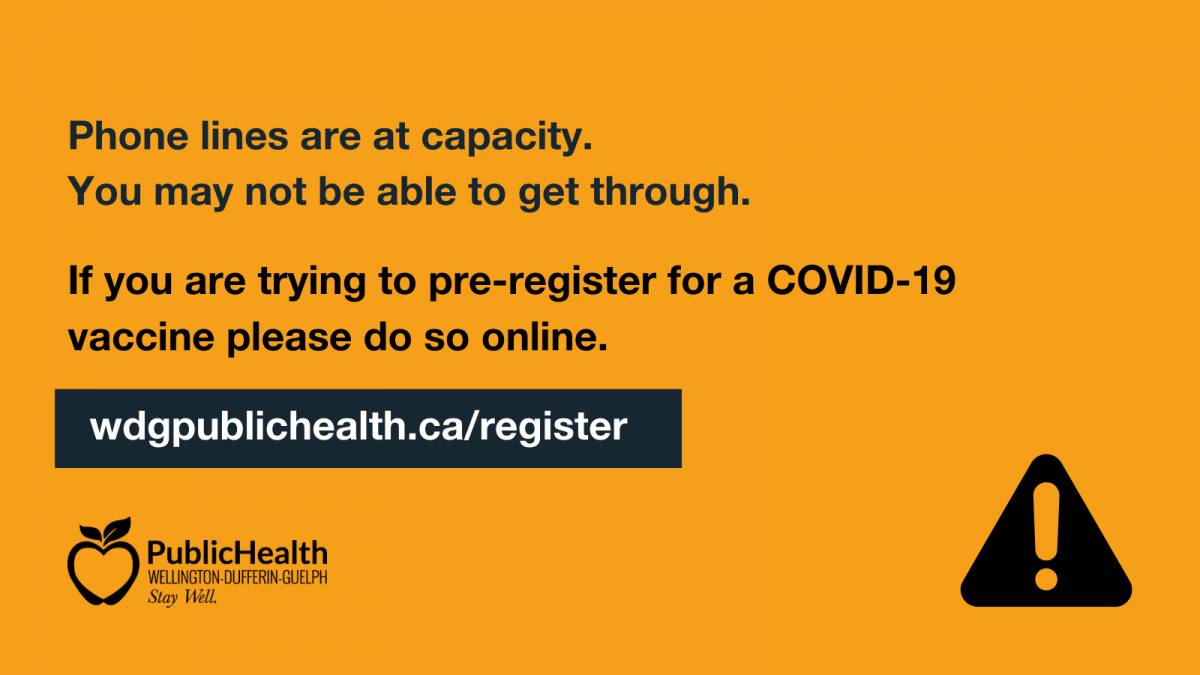 Due to call volumes, our phone lines are at capacity and you may not be able to get through. We are working hard to increase phone line capacity to support the call volume, in the meantime we ask that people register online as much as possible.
Why pre-register
Pre-registration helps us book appointment reservations quickly and easily as vaccine supply is available. This is how we will contact you to reserve a vaccine appointment. We strongly recommend everyone registers online as this will be the fasted way to get registered for an appointment. Please only pre-register once.
Who can pre-register
If you are a member of any of the following groups, you are now eligible to pre-register for a COVID-19 vaccination appointment.
Adults 80 years of age and older who reside in WDG
Adults who are part of the Indigenous community and also reside in WDG
Long-Term Care and/or Retirement Home Staff
Essential Support Staff in Long-Term Care and Retirement Homes
Essential Caregivers in Long-Term Care and Retirement Homes  
Adult recipients of chronic home care (Waterloo Wellington LHIN - Guelph and Wellington Residents)
Adult recipient of chronic home care (Central West LHIN - Dufferin Residents)
Healthcare workers* in the following settings (please see the Ministry Guidance for Prioritizing Health Care Workers for a more detailed breakdown of those eligible):  

Hospitals 
COVID-19 Response Roles (e.g., Assessment Centres, outbreak response, COVID-19 immunization clinics) 
Medical First Responders
Community Healthcare workers serving specialized populations 
Community Healthcare workers serving the general population 
Healthcare worker in Congregate Settings 
Healthcare services for indigenous populations 
Laboratory services 
Non-acute and rehabilitation and therapy 

Emergency responders

Front line members of police services
 *For the purposes of this vaccine prioritization, 'health care worker' is defined as:  
Anyone working or volunteering in a health care organization (includes regulated health professionals as well as staff not providing direct patient care such as cleaning, food or administration services) 
Any worker providing healthcare services or direct patient service in a setting outside of a health care organization
Important pre-registration information
What you will need before you pre-register.

Please note: Internet explorer cannot be used to pre-register. Use Chrome, Firefox, Safari or other.

To pre-register online you will need:

Your contact information including home address
A cell phone number
An email address
Your health card number (when prompted, enter numbers only - no dashes, spaces or letters) (optional)
About your position, workplace and role (for occupation-based priority groups)

Tips and troubleshooting during the pre-registration process

Read these tips carefully, it will help you make your way through the pre-registration process easier.

Please note: Internet explorer cannot be used to pre-register. Use Chrome, Firefox, Safari or other.

Step 1: Entering your information

First name, last name, date of birth and gender are required fields
Date of birth must be formatted as MM/DD/YYYY
Health card number is OPTIONAL. If you do enter it, please enter numbers only (no dashes, no spaces, no letters)

Step 2: Entering your contact information

Adults over 80, Indigenous adults and Adult recipients of chronic home care must provide an email address. If only a cell phone number is entered, you will get an error. We strongly recommend entering both whenever possible.
All other categories of priority groups must provide BOTH an email address and cell phone number.
Everyone must enter the address where you reside. Do not enter your employer's address.

Step 3: About you (this step is for occupation-based priority groups only - other groups will not see this step and will go straight to Step 4)

For occupation-based priority groups, this is where you will enter information about your position/role and indicate your workplace.
If your workplace is not on the list, you must fill in the "Other" box.

Step 4: Review and submit your information

Make sure your information is accurate, especially your cell phone and email address. This is how you will receive your appointment booking code.

Step 5: Registration complete

Your registration has been successfully completed when you see the "you have successfully completed your registration" final page.

IMPORTANT: Make a note of the cell phone number, email address and date of birth used in the pre-registration process. When you book your appointment online, this information must match what you entered in the pre-registration site. You may not get an appointment code right away so it is important to remember what information you entered into the pre-registration system or you will be unable to book your appointment online.

After you have pre-registered

Only pre-register ONCE. Registering more than once may cause issues with the next steps in the booking process.
Pre-registration does not indicate you will get an appointment immediately, you may not get your appointment booking code for a week or longer. Please do not pre-register again.
When vaccines become available for your group, Public Health will use the contact information you provide to send you an email and/or text message. This email and/or text message will include a website link and unique code so that you can schedule an appointment to receive your first dose of the COVID-19 vaccine. Please check your JUNK/SPAM folders regularly.
Once you have your code, proceed to wdgpublichealth.ca/booking for step-by-step appointment booking instructions.
Visit wdgpublichealth.ca/vaccine-prep to find out who must speak to their doctor prior to their vaccination appointment and how to prepare.
How to pre-register

We strongly recommend online registration. If you are unable to pre-register online yourself, please ask a family member or friend for assistance, contact your local Wellington County or Guelph Public Library or call ext. 4506. Due to call volumes, our phone lines are at capacity and you may be unable to get through for assistance.